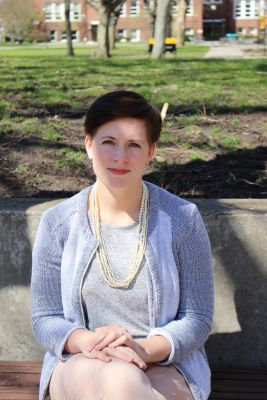 As a 2016 history graduate with an art minor and volleyball player, Natalie Hubby kept busy on campus since the day she arrived at Goshen College.
The Ohio native signed as a volleyball player her first year at the college, was an active member of the Athletic Advisory Committee and was a ministry leader in Miller Hall her second year. Hubby served as a contributing writer for The Record and Goshen Commons, and she held several jobs on campus, some of which include working as a student assistant for the history department, a barista at Java Junction and as a Maple Scholar.
Hubby said that one of her most memorable experiences at GC was a May term trip during which she explored historic Hopi and Navajo reservations.
"This course focused a lot on the representation of Native Americans," she said. "It was eye-opening to interact with the Navajo and Hopi and then to see how they were represented in museums by outsiders as well as themselves. Thinking about representation is what got me interested in curation."
Like many others students, Hubby changed her career goals as her interests developed throughout college.
"Initially I wanted to teach history, but then I remembered that I hate public speaking of any kind," she said. "Rather than pick something that fit practically with my history major, I chose to add an art minor. A way I see these two passions of mine fitting together is in the museum field. My next step in entering this field is to go to graduate school, which I'm planning on doing this fall."
Hubby encourages incoming GC students to get involved and explore what the college has to offer.
"There were many times during the first semester of my freshman year that I was contemplating transferring to another college or university," she said. "However, after my first year I was sold on everything Goshen College had to offer me. I would suggest that prospective students try to be involved in everything they can — if you invest all of your time into one extracurricular you won't see all that Goshen College and the Goshen community has to offer."
Goshen's emphasis on global citizenship pushed Hubby to view the world differently. "I grew up in a very sheltered environment, and I find myself much more informed and constantly questioning the world around me," she said.
Hubby got married in the summer of 2016 to Benjamin John Pollitt '15 and has recently accepted a full-time job at Bread and Chocolate in Goshen as a service coordinator.