Liz Berg '12 and Marcelle Zoughbi '13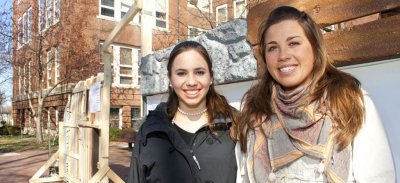 Liz Berg '12, from Canada, and Marcelle Zoughbi '13, from Palestine, came to Goshen College to study nursing and elementary education. While at Goshen, they became activists for peace and justice in the Middle East.
Liz and Marcelle come from very different places. Liz grew up in Langley, British Columbia, and Marcelle grew up in Bethlehem, Palestine. But they found a commonality when they met at Goshen College: a passion for finding peace in the Middle East.
Marcelle grew up with the realities of the Israeli-Palestinian conflict close at hand on a daily basis. Liz has come to be passionate about what is happening in the Middle East after visiting and learning more, and becoming friends with Marcelle.
In March 2011, along with many other Goshen College students and the PAX Club (a student club), they built a miniature replica of the wall that divides Israel and Palestine in response to concerns about humans rights and environmental issues.
Everyone walking through campus was required to show an ID card to guards stationed at checkpoints in order to pass through. In an effort to explore both sides of the conflict, students also had the opportunity to learn about the history of the conflict and why the wall was built, and to engage in talk-back sessions to reflect on the experience of not being able to move freely around campus.
These women from different countries hope to bring about broader change by starting with their peers. Marcelle has hosted multiple groups of Goshen College students in her home and her community as they learned about daily life in the West Bank.