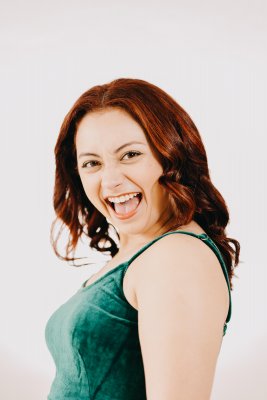 Where are you from?
I am Lisa Rosado Rivera and I am from Puerto Rico. I was born and raised in the capital San Juan.
What made you decide to attend Goshen College?
I decided to go to Goshen College because I was in a Mennonite public school from kindergarten to senior year of high school. I was really intrigued by the music program of GC. One thing that really caught my attention was the all-women's choir that Deb Detwiler led. That was something really new to me. It caught my attention and it was something I wanted to be a part of.
Why did you choose to study music & theater?
I was a double major in music and theatre, and the reason I decided to study these two majors is because I was mainly looking for a college that had a musical theatre program. Goshen College did not have that, but I was very  excited about what Goshen College could provide those who were looking for a degree in music and theatre. So I decided to come here to study both of my majors and gain a lot of experience which I have thankfully throughout my journey.
What was a highlight or memory from your GC experience?
One highlight I can share from my GC experience would be all the productions I've been in and all the experiences I have gained with theatre. I have been involved in mainstages and spring productions like Pirates of Penzance in 2018.  I was involved in Bright Star in 2019.  I was also involved in the cabaret which was last spring. Also I was involved in the mainstage, Almost Maine. I gained so much experience from on stage and off stage being an actor and being backstage crew.
What are you hoping to do with your degree when you graduate?
After I graduate Goshen College I'm planning to polish my skills in dancing, acting, and singing by entering an academy or looking for a job. I would be looking for a job that can help increase those skills and techniques I have learned throughout my experience here at Goshen College. I want to become a professional Broadway performer, I'm hoping to do that long term. Being a performer is not easy after the productions I have been in and the classes I have taken with the professors I feel like the experience I have gained is phenomenal. I am really thankful for everything I have learned and I'm so excited to put it towards my career in the future.