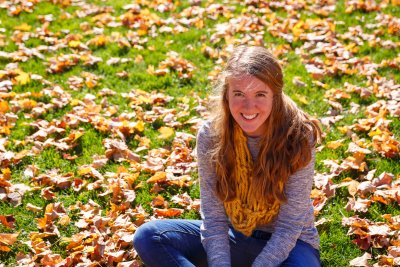 Leah Landes is a 2017 math education graduate from Saint Louis, Missouri. She is looking forward to using her degree to teach math to junior high students.
What do you like most about Goshen and why?
I love the sense of community at Goshen. Events like Kick-Off or Friday-night hymn sings are great to catch up with all sorts of people, and it's so nice feeling like I can wave and say hi to everyone I pass by on campus.
Why did you choose Goshen?
I was looking for a smaller school that shared a lot of my values. I love how much the students and staff alike care about social justice and are open to challenging conversations.
What is your favorite experience at GC so far?
I recently returned from SST in Cambodia, and while calling it a "favorite" feels strange, it was definitely life-changing. I learned so much about the country and also about myself, and I made life-long friends among my peers after going through the hardest months of my life with them. Nothing brings people together like eating tarantulas on the side of a country road in the middle of a foreign country.
How has your GC experience influenced your faith and worldview?
Goshen has challenged my faith and worldview in countless ways. I have learned just how much privilege I have as a straight, cisgender, white member of the middle class and at GC I'm constantly pushed to acknowledge all the places that privilege is at play. I've also been exposed to many different ways that faith can be nurtured and lived out outside of a traditional Sunday morning setting (such as hymn club on a Tuesday night).
What advice would you give a prospective student?
Take risks, both on prospective visits and when you're a student. Go to as many events as possible, meet as many people as possible and don't be afraid to be wholly yourself. I wish I'd been less anxious in my first years of college and gotten to know more people, but I love feeling like there's still time and that people are still open to making new friends.
What do you hope to do with your degree?
As a math education major, it may seem like future vocation is kind of obvious, but I could not be more excited to get into a school. I want to teach at the junior high level and share my love of math with students who are still young and excited about learning.