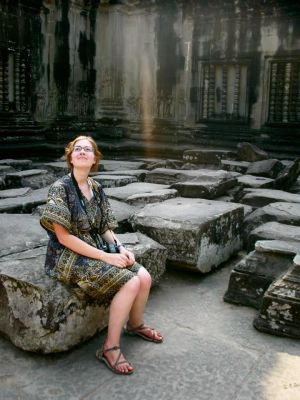 Kate Yoder studied English writing and art and enjoyed spending her time in the community garden close to campus, playing piano, editing for college publications and creating mixed media collages.
What do you like most about Goshen and why?
I love the culture and community at Goshen College. This is a place where people understand (and often share) my love for vegetarian food, impromptu hymn sings and clever puns. It's a wonderful feeling to walk down the sidewalk and know almost everyone I come into contact with. I'm even getting to know the campus squirrels on an individual basis! My professors have been so supportive of my learning inside and outside the classroom. I've taken road trips with profs, heard their life stories and asked their advice on everything from what classes to take to what possibilities there are for me after college. Going into my senior year, I have already edited and published three books with Pinchpenny Press, interned at three different writing organizations and curated an art exhibit.
Why did you choose to come to Goshen College?
Two of my older siblings graduated from Goshen College. When I visited them, I fell in love with the quaint downtown community, the ivy-covered brick buildings and the passion for the arts that I saw here. Goshen wasn't geographically far from my home in Elkhart, but culturally, it felt quite different. I knew that a liberal arts education would allow me to pursue my interests in a variety of fields, and I correctly suspected that the campus culture would fuel my creativity.
How has Goshen College influenced your faith or worldview?
I grew up in a Mennonite church. I was always a bit of a skeptic when it came to religious matters, but I often felt the need to hide my doubts because of stigmatism concerning skeptics—especially female skeptics—in American culture. At Goshen College, though, I feel that I can safely express both my questions about theology and my passion for Mennonite culture and history. The openness to discussion on campus enriches and diversifies conversations among students, allowing us to learn from one another.
What do you hope to do with your degree?
Honestly, I'd like to just make handmade paper all day, but perhaps that's not the most practical solution to this "life" thing. I guess my dream job would be working in book publishing as an editor, writing for The Onion as a humor columnist or becoming a linguistics professor. As long as I'm creating something and playing with words, I'm happy. I'm becoming comfortable with the idea that my life is not just some trajectory leading to a salaried office job. I will be continually learning, trying new things and seeing new places before I settle into a desk chair from 8 to 5 p.m. every weekday.
What advice would you give a prospective student?
Get to know your professors, and don't be afraid to schedule a meeting with them to ask questions. I've received scholarships, summer jobs and priceless advice just by talking to my professors. Also, if you're an introvert like me, I encourage you to take on a level of social interaction you can handle. You don't need to feel guilty about spending time by yourself on weekends, and don't spend this alone time visualizing all the exciting things people might be doing without you. If you need time by yourself, you should do that. College is a time for personal growth, too, not just intellectual and social growth. I promise you'll form valuable friendships during your time at college, but you don't need to force these. They'll happen naturally.
What was an influential experience you've had outside the classroom?
I went on Cambodia SST in 2013, and it was fantastic. I'd never been to a foreign country before in my life, except for a brief stint in Canada back in '99. Since I love linguistics, I enjoyed studying the Khmer language, which was challenging to learn since it is outside the Western European language tradition. It provided an opportunity to study a language with entirely different structures and assumptions in terms of syntax, morphology and phonetics.