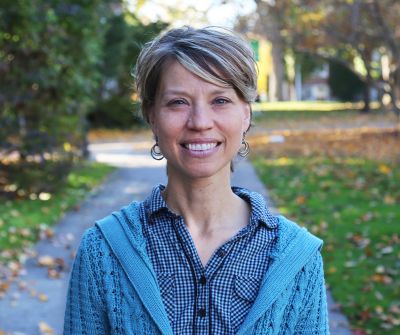 Professor of Psychology
---
What drew you to GC?
As an alum, I know the richness of an education at GC. My education was excellent, not just in the traditional classroom sense, but also in the relationships I had with professors. I wanted to teach at a liberal arts institution where academic rigor and critical thinking were valued alongside caring for the whole person. I knew that existed at GC. Learning, I believe, happens best in an environment with high expectations and deep concern for the person.
What do you love most about teaching GC students?
I love relating to young people, hearing their ideas, joys and frustrations. I am honored to learn to know many of them beyond the classroom as they seek to understand and navigate in a broken world. They challenge me to think carefully about what I believe and to always be aware of how limited is my knowledge of God's creation.
What excites you about the field of psychology?
Studying a subject that is so relevant to every day — humans. No matter who you are or what you do, you have to interact with people. Having a good, albeit limited, understanding of human behavior can make life rich. Also, I really enjoy discovering the truth about what we think makes perfect sense. For example, catharsis is the practice of "getting your emotions out" in order to feel better and "tame" the emotions, a truth that is widely held in the Western world. However, research reveals that catharsis, particularly for anger, does not "tame" the negative feelings, but rather tends to produce more angry or violent behavior.
What do you enjoy doing outside of your academic work?
I enjoy healthy cooking, running/exercising, repurposing things (up-cycling old things, refashioning clothes, redoing furniture), flower gardening, reading and spending time with family and friends.
How does the college's vision (international, intercultural, interdisciplinary and integrative) connect or shape your teaching and work?
As a psychologist, I seek to understand culture in all of its parts: personal and social. In some ways, every interpersonal encounter is a cross-cultural experience. Yes, there are many things we have in common as people, but I have not lived your life nor have you lived mine. I work to illustrate connections between psychology and other disciplines such as biology, business, religion, sociology, etc. Yet, our epistemologies, or ways of knowing, are distinct and at times, contentious.
How do you strive to make peace through your work and life?
For me, striving for peace in work and life means to live honestly and humbly. Not the kind of brute honesty that states everything I think, but one that seeks to look at myself realistically and look at others and situations truthfully and compassionately. I try to live by the Golden Rule: do unto others what you would have them do unto you. Although I am not surprised by the world's brokenness (disappointment, suffering, destruction), I strive to make the world a better place and never give up the notion that what I do matters. Ultimately, I am convinced that my ultimate peace and hope is in the Lord whose love, grace, mercy and goodness is far beyond my comprehension.
Is there anything else you would like students to know about you?
I am a wife to an amazing, loving husband and the mother of two wonderful daughters. I am a breast cancer survivor whose bout with a deadly disease has been a wake-up call to try very hard to live each day according to what really matters most to me.