Sky McKinnell '19 and Joshua Schwalm '21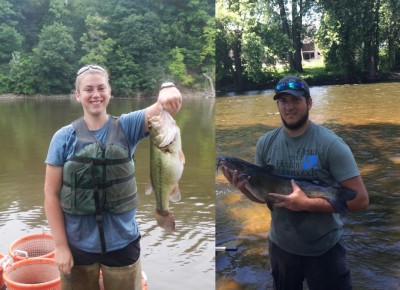 Skye is an environmental science major from Salem, Oregon, and Joshua is a biology major from Elkhart, Indiana. Both worked with a local aquatic biologist doing electro-fishing and fish research.
Skye and Joshua worked with the City of Elkhart's aquatic biology program as part of the stream survey team, doing fish surveys throughout the St. Joseph watershed using a technique called electrofishing. The data collected was part of a longitudinal study with data collected annually for the past 20 years to access the quality of the rivers and streams in the area.
"We use a generator that powers a pulse that sends electricity to the electrodes, which then stuns the fish," Schwalm said. "Then we net them and place them into a live well. When we finished gathering the fish we head to land and process the fish."
"Most of our time was spent in the field collecting fish, IDing them and recording length and weight," McKinnell said. "We also did a good amount of lab work pressing and aging bass scales, vouchering fish for the alcohol preservation museum, macroinvertebrate identification and tissue samples to test for chemicals. Throughout the summer we participated in community outreach at local festivals and gave presentations to local school groups and day camps about the importance of rivers and fish diversity."