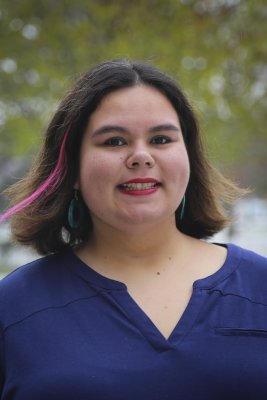 This story originally appeared in Vibrant People of Elkhart County.
"You have to wonder when you are talking to a member of the clergy and she tells you, she is a devotee of roller derby, loves scary movies and will travel far and wide for a great cup of coffee. You know, however, that these are just pleasant distractions for Joanne Gallardo. Serving as a Pastor is in her heart and soul.
Joanne came to Goshen College to study music and the Bible. After graduation, she continued her education at the Anabaptist Mennonite Biblical Seminary. She is now Pastor of Faith Formation at Berkley Avenue Mennonite Fellowship. Joanne is also serving as Interim Campus Pastor at Goshen College.
It might seem like Joanne has come full circle, and in some way, being back in Goshen is. What Joanne has done along the way, however, has profoundly shaped her passions and her perspectives. In Washington, D.C., for example, Joanne served as a case manager for the homeless population. It was there that she became concerned about matters related to mental health. What she experienced continues to inform her work.
Music is a big part of Joanne's life, especially church music. She sings with several choirs and is a member of the Hymn Society in the U.S. and Canada. Joanne performs with Notable Women, an ensemble based in Goshen as well.
Now, let's talk about roller derby, scary movies and coffee.
Roller derby? "I love it," Joanne says. She used to be a derby girl, but now she is content to follow the South Bend Roller Girls.
Fright Films? Joanne does not hesitate when asked her favorite: "1957's 'The Bad Seed'," she tells you. The studio calls 'The Bad Seed' "A picture of emotional extremes and sensitive depth." "It's a classic" is all Joanne feels compelled to add.
And coffee? Three times throughout the conversation, Joanne mentioned her love of coffee. Her interest, she says, "is trying and every type of coffee."
We cannot claim this with 100% reliability, but we have to believe that Joanne's vitality and enthusiasm is not always caffeine induced. She really is a Vibrant Person.