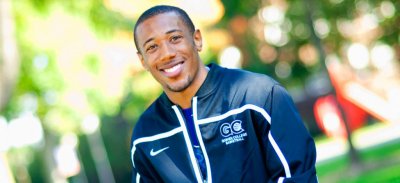 Jeremy Pope graduated from Goshen College in 2011 with degree in business and sports management. He came to GC to play basketball, but he stayed for the community. 
If you know just one thing about Jeremy Pope, it's probably that he likes to play basketball. In fact, that's why he came to Goshen College: to be part of the growing basketball program.
Jeremy was involved at Goshen College. He was president of the Black Student Union and an event coordinator in the Multicultural Affairs Office. He participated in the Summer Academic Leadership Training sponsored by the Goshen College Center for Intercultural Teaching and Learning and founded SWAG (Serving With All Gifts), a campus men's group.
"It's easy to find and communicate with people that you need on our journey through college. My most rewarding experiences have to do with meeting new people of all type of heritages, races and cultures," said Jeremy.
Jeremy also came to Goshen College to take advantage of the academic programs and opportunities, particularly sports management.
"There are a lot of services on campus that give support–academically and socially," he said.
Jeremy went on to earn a master's degree in Sports Management Hospitality from Lasell College. He also worked as an admission counselor at Goshen College.