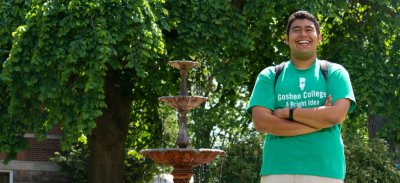 Jair Hernandez, a 2013 graduate from Goshen, came to Goshen College to study public relations.
Jair knew that as a liberal arts college just a few blocks from his home, Goshen College offered a little bit of everything.
"I wasn't sure what to study," Jair said. "At first I thought I would be a computer science major, but now I'm a public relations major. I was jumping around a lot, and Goshen let me try out a few things before I made a decision."
The size of Goshen College helped, too.
"I really like small schools. I was definitely looking for a more intimate classroom experience."
In the classroom, Jair continued to learn and connect with people.
"In the public relations field you get to do so much… sales, advertising, marketing, organization, communication, the list goes on. I feel like I have a huge set of skills to work with now. Goshen opened a lot of doors for me."
— written by Anna Ruth '12, photos by Alex Pletcher '14