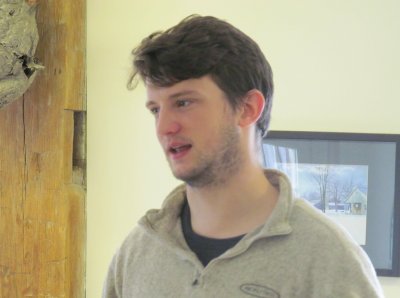 Jack Shomberg, was environmental science major at Goshen College who faced hard-headed questions from city officials while he was working with them on a restoration project.
"I'd love to do green stuff, but how do we sell it to the public?" one said. These are the kinds of questions that a Sustainability Studies major prepares students to wrestle with.
Jack's work with the City of Ligonier, Ind., was a project for the Environmental Problem Solving course he took during the Sustainability Leadership Semester. He and a partner considered restoration options for the land along the Strawberry Valley Greenway, a new trail that will run along the Elkhart River as it passes through Ligonier.
The project involved everything from researching methods for stabilizing the riverbank to imagining where to plant strawberries. Wild strawberries had provided the name of the trail because they were once so common in the area. Jack and his partner also had to consider the human element, such as how to involve the community and what kinds of signage were needed. They worked with a local youth organization to have teens build a bench for the trail.
Looking ahead, Jack hopes to be an advocate for green design in whatever town becomes his home after college. He has a special interest in green buildings. This interest is one reason he took the Sustainability Leadership Semester (SLS), which is now a core component of the Sustainability Studies major.
During the SLS, Jack was able to observe green building strategies up close because students live at Merry Lea, Goshen College's nature preserve and biological field station. The buildings there were the first facility in Indiana to receive a platinum-level rating from the U.S. Green Building Council. Students in the SLS study with the gentle flapping sounds of a wind generator in the background and store their food in cupboards made of sunflower wastes.