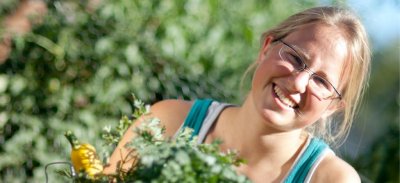 Hannah, from Harrisonburg, Virginia, graduated in 2013 from Goshen College with a nursing major. As a student, she was a gardener, an environmental educator, an activist and a peacemaker.
If you had to describe Hannah in one word, it would probably be "active."
Beyond learning about nursing and women's studies, Hannah appreciated how her professors encouraged her to get involved in her other interests as well. From helping to initiate a campus composting project to working with the homeless and traveling to Israel/Palestine to learn about peace, Goshen College helped Hannah find opportunities to be involved in the things she cares about.
As part of the EcoPAX student club, she helped get a campus composting project off the ground, and even presented about it at a national conference. She helped lead campus recycling programs, a garden project and  education efforts about lowering our carbon footprint. She worked with the homeless through the college's Service Inquiry Program one summer at the local Goshen Interfaith Hospitality Network. Hannah also went to Israel/Palestine with a group of other GC students to learn more about how people live and work for peace in the midst of the conflict there.
And Hannah did all of this while still making the Dean's List!