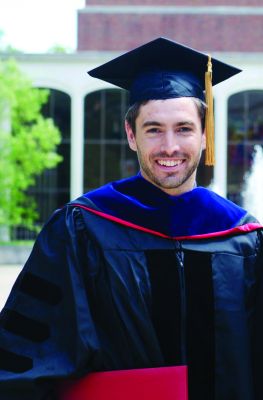 A postdoctoral researcher in the Memory Modeling Lab at Syracuse University, Greg Koop has delved deeply into the field of memory and decision making. The decision to study psychology didn't come easily for Greg, but as they say, the apple doesn't fall far from the tree. Greg's father, Vic Koop, taught psychology at Goshen College for 27 years, retiring in 2009.
When did you know that you wanted to pursue the highest level of education?
Following college I completed a year with Mennonite Voluntary Service. I was fairly certain that I would not end up in psychology. However, I soon came to miss the empirical, scientific perspective that had characterized the psychology department at Goshen. The projects I proposed at my service location all utilized the skills I learned as a psychology major, which I took as an indication that work in psychology was really something I wanted to do for a career.
How did Goshen College prepare you for your current work?
When I first arrived in graduate school I was fairly intimidated by the pedigree of some of my classmates, but I soon realized that the breadth of knowledge I gained at Goshen was at least comparable to that of my classmates from large research institutions. My liberal arts background made me thoroughly prepared for graduate work in psychology. The time and attention given to students by the faculty at Goshen is truly a unique opportunity for undergraduates, and it is fantastic preparation for the close advisor-advisee relationship in graduate school.
What is a piece of advice you would give to someone who is heading into your field?
Some of the best advice I received before applying to graduate school was that I had to have "fire in the belly" about my chosen discipline. Graduate school in any area is a lot of hard work with delayed gratification, so undertaking such an endeavor is almost impossible without some passion for the field.