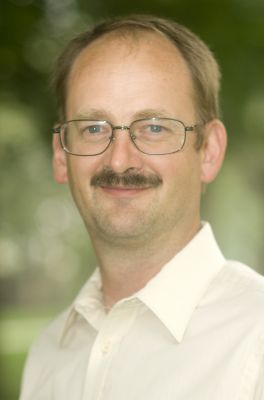 Professor of Chemistry
---
What drew you to want to teach at GC?
I came to teach at Goshen College because it was a small Christian college. I wanted to work with students on an individual basis, but I also wanted to be able to share my faith in God with them.
What do you love most about teaching GC students?
I enjoy the variability of my work schedule. It allows me to arrange to work with students in research or meet with students from a class as needed. Students regularly visit my office to ask questions about homework or lab assignments. This allows one-on-one work with the student; it is fun in these sessions to see students "get it."
What excites you about your field of study?
Everything is chemistry, so as a chemist I have the opportunity to investigate and understand a vast array of problems.
What do you enjoy doing outside of your academic work?
I enjoy spending time with my family, particularly outdoors.
How does the college's vision (international, intercultural, interdisciplinary and integrative) connect or shape your teaching and work?
Helping students recognize that there is frequently more than one right way to view a situation is exhilarating. Certainly this applies to the global worldview but it can trickle down into the chemistry we do everyday. Seeking multiple solutions to complex problems allows us to choose the best options in different situations. Even in science, one size does not always work.
How do you strive to make peace through your work and life?
Chemists are frequently asked to solve complex problems: find medications for disease, seek greener synthetic pathways to target molecules or find better and more sensitive ways to detect a molecule of interest. Teaching students to do this while using the best practices available in technology and with environmental concerns is making peace with our community and surroundings.
---
Fun Fact: Dan has successfully bred and trained hundreds of homing pigeons. Read more!