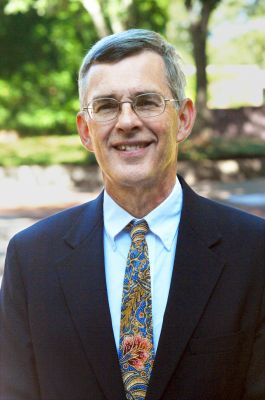 Associate Professor of English, International Student Advisor
---
What drew you to want to teach at GC?
I wanted to teach at an institution that had a high purpose and vision, and GC has that completely. I also wanted to teach with a group of people who liked working together and respected each other and I find that here. I appreciated the fact that GC's manageable size meant that I could get to know most of the faculty and staff (and many of the students), which gave me a feeling of being "at home" when at work.
What do you love most about teaching GC students?
I can get to know them personally since class sizes aren't too big; I can meet with them after class to help them with the coursework or whatever else they want to talk about. Many of them are also idealistic, wanting to do something meaningful with their lives, and I find that inspiring.
What excites you about your field of study?
I love working with language and with people who speak different languages and represent different cultures. I find that very stimulating and challenging. I also enjoy the aspect of Teaching English to Speakers of Other Languages (TESOL) that involves helping people develop a new skill (speaking English) that can help them advance their lives.
What do you enjoy doing outside of your academic work?
Riding bike all throughout the beautiful northern Indiana farmland. Also, cross-country skiing on the many paths through woods around here in the winter. Finally, I enjoy playing and singing music at church and elsewhere.
How does the college's vision (international, intercultural, interdisciplinary and integrative) connect or shape your teaching and work?
TESOL is all about all four of these values. When you help someone learn a foreign language (like English) you are by definition working with international people who represent other cultures which you, as a teacher or learner, have to make an effort to understand. And since language touches on everything people and societies do, when we are learning and teaching languages, we are learning and talking about every topic under the sun, which is both interdisciplinary and integrative. TESOL is the ultimate international, intercultural, interdisciplinary and integrative discipline.
How do you strive to make peace through your work and life?
Teaching foreign languages (like English) is a practice of building bridges of understanding between people who truly don't understand each other – helping people come to a better understanding of the other people, cultures and languages of the world is essentially a peacemaking undertaking, especially if the teacher also sees him/herself as a learner (which s/he must be).
Is there anything else you would like prospective students to know about you?
In addition to teaching TESOL courses, I'm also the International Student Adviser which means I get to interact daily with representatives from the whole world! I encourage all students who come to GC to make a friend from some other culture – it's the best education you can get.