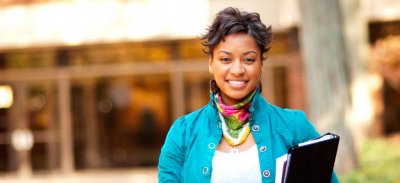 Brett Bridges, from Crete, Illinois, graduated with a public relations degree in 2011. She came to Goshen College because she took a fateful online quiz.
When Brett put her trust in an online quiz that matched students with prospective colleges, she ended up with a result completely different from what she anticipated – Goshen College.
"I always wanted to go to a larger university when I was younger. But after being at Goshen, I don't think I would have had nearly the same experience at a larger institution," she said.
Brett was a first-generation college student.
"My parents were really excited when I decided to come to Goshen College. After we visited, they knew it would be like being with another family for me," she said.
Brett found many opportunities at Goshen College. She was a representative of the Black Student Union and member of the Latino Student Union, a contributor to the student newspaper, The Record, and business manager of the school yearbook, The Maple Leaf. Brett was also an intern in the Admission Office.
"I can't believe that anyone on campus would have a hard time connecting to some group or another," said Brett.  "I enjoyed the activities that I was involved in and the people I have met and worked alongside. The connections that I made in these groups are ones that I still truly value."