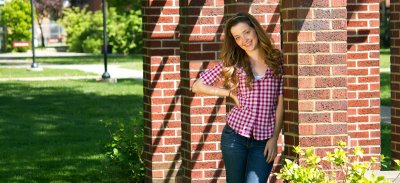 Bojana Jankova, from Macedonia, graduated from Goshen College in 2013. She came to Goshen College to learn how to use her communication skills to plan events, bring people together and positively impact others. 
Why Goshen College?
Bojana Jankova had heard that Goshen College students are servant leaders. Even though she wasn't sure what she wanted to study, Bojana knew she wanted to go to college in a place like that.
"I want to make the world a better place and I want to help people," she said. "As a privileged person, I believe it is my responsibility to give a voice to those who don't have one. Goshen opened my eyes to the need for service in the world."
Life on campus
Bojana served every day, both on and off campus, in jobs, volunteer positions and events. She planned activities for the International Student Club, worked as an intern to organize First Fridays events in downtown Goshen and rallied the campus in campaigns for charity organizations. One year, Bojana even gave up her Spring Break to volunteer on a service trip to Georgia.
"I like to be involved with people and I like to plan things," she said. "It's so rewarding when I organize something and people show up and connect with one another."
Bojana's time in the classroom prepared her to handle her busy schedule well.
"I studied public relations because I'm a good leader and communicator," said Bojana. "It's helpful to have that kind of background, and opportunities like serving as a Student Senate member gave me great experience."
After college
As an international student, Bojana recognizes the need for communication between different groups of people. At Goshen College, Bojana gathered the tools she needs to put a broken world back together.
"I don't just want to be a professional, I want to serve," said Bojana. "There is so much need, and I'm lucky enough to be in this position of privilege. I want to be involved in projects that create spaces for people to talk together, build community and bridge differences."
— written by Anna Ruth '12, photos by Alex Pletcher '14