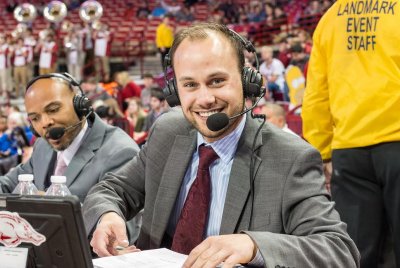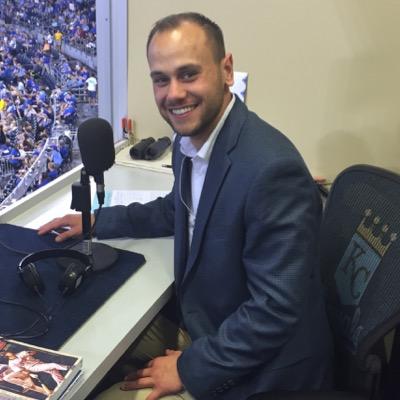 Benjamin Kelly is a 2013 graduate with a broadcasting degree. With the training, experience and knowledge he gained at Goshen College (and a voice made for radio), he has been the radio voice and baseball operations coordinate of the Northwest Arkansas Naturals, double-A affiliate of the Kansas City Royals. He is currently pursuing a law degree. 
During his time at Goshen College, Benjamin's voice could be heard booming across the baseball field as he encouraged his teammates, or on the radio as he talked sports. But his good voice isn't the only reason Benjamin won first place for the best sports talk show in the country. He lives sports. He can't get enough of sports. And that passion emanates throughout other areas of his life.
Benjamin played catcher on the Goshen College baseball team and covered sports for the student-produced TV news broadcast called The Correspondent. He was the sports director for Goshen College's radio station, 91.1FM WGCS-The Globe. And he did all of this with excellence, winning awards left and right, along with his fellow broadcasting students. While The Globe was named the 2011 Best College Station in the Nation by the Intercollegiate Broadcasting System (IBS), individually, Benjamin won first place nationally for Best Sports Talk Show. And at the state level, he won first place awards for both radio and television broadcasting in the same year. Keep listening, because one day, he might just be heard announcing the World Series.
On his job as an announcer for the Northwest Arkansas Naturals:
I provide solo play-by-play for all 140 regular season games for the Naturals on our flagship station, 92.1-FM the Ticket, KQSM. This means that I travel with the team and work with the players and coaching staff on a daily basis. The broadcast consists of a 15-minute pre-game show produced by me before every broadcast, which includes a recap with highlights from the previous game, a pre-game interview with player/coach/manager and then a preview of the game at-hand."
I also work directly with the Royals in terms of our player development contract. I am responsible for the distribution of meal money, apartment/hotel living arrangements, travel hotels and the collection of every purchase made during road trips. I compile everything logged and put everything into approximately a 40-page document four times a season to give to the Royals for reimbursement purposes."
On his experience at GC:
Attending Goshen College opened many doors for me, especially in broadcasting. The flexibility I had to pursue my two passions – baseball and radio – and then combine them post-graduation, I don't know if I could have done that any where else. Working at the 91.1-FM, the Globe, having the opportunity to be on-air as much as I wanted, being able to broadcast over 150 sporting games over my four years from men's and women's basketball, men's and women's soccer and volleyball on a station run like a commercial station, was an extremely beneficial opportunity for me."
The opportunity to produce a sports segment, all four years, for the Correspondent on GCTV, helped me pursue even more avenues on a different medium. Being able to work with all the professors in the communication's department, having them be as invested in my passion as they are in their own was an extremely rewarding experience. I felt as prepared as ever upon graduation and ready to pursue my career."
His advice for students:
My advice for any graduates entering the field today is never say no to a job. My first "job" out of college was in independent baseball working for the Schaumburg Boomers. I didn't make a dime working for them. I worked another job waiting tables just so I could keep doing baseball. I made $500/month working as a part-time Sports Information Director for Judson University in Elgin, Ill. while still waiting tables to make it all work. It would've been nice to work one job and get paid to do it; but it led to my full-time job now, just nine months after I graduated college and it afforded me an opportunity to work in a top flight organization and system, like the Kansas City Royals, broadcast 140 games a season and continue to grow my brand in a top-100 media market like Northwest Arkansas."
If you're getting into this field for money, find a different route because it won't happen right away. I love my career and I love coming to the ballpark every day. I'm excited for what the future holds and I want to continue to represent Goshen College, because without GC, I wouldn't be where I am today."