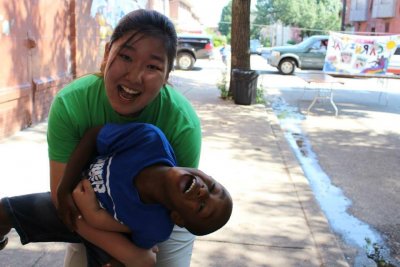 Name: Rebecca Choi
Major: Music
When and where were you happiest?
I was the happiest when I got to hold my youngest brother for the first time. I was ten years old and I had two other brothers too, but I was finally big enough to hold a newborn by myself. I remember not wanting anyone else to hold him.
What was one of the most defining moments in your life?
For people that know me, know that I have served at a summer camp in inner city Philadelphia for the past three summers. Through my experiences there, I was able to deepen my faith and deepen my passion for kids. Every year there are obstacles that I face in Philly and I really feel as though it has helped me grow in many ways.
If you were president, what is the first thing you would do?
I would create an easier way for immigrants that have overstayed their visas and undocumented immigrants to obtain citizenship.
What does a perfect day look like to you?
A perfect day for me is being at my home in Boston and having my whole home church and extended community over for a Korean dinner.
If you could change one thing about yourself, what would it be?
I think it would be me being so judgmental. Part of the Korean culture is to be judgmental about your looks, and I think it became instinctive to see someone and judge right away.
QUICK ANSWERS
What do you feel most proud of? My family.
What is your strongest personal quality? My ability to make people laugh with my unique laugh.
What is a skill you would like to learn and why? Running, because I can't.
Which words or phrases do you most overuse? "Ohno."
What teacher in school made the most impact on you and why? At one point my mom told me my teacher, Mrs. Levy, was like my school mom. In middle school, school was very hard for me. I had transferred to a private school because my public school at the time had given me a hard time. She took me under her wing and I felt very safe and loved with her.
Best childhood memory: Waking up before my parents with my brother to try to watch some TV, but ending up getting caught.
What is your most marked characteristic? Being caring.
Which living person do you most admire? My parents.
Which historical figure do you most identify with? Clara Barton.
What is it that you most dislike? When people get ignored.
Greatest fear: Being alone.
Favorite place to live: Boston.
Favorite occupation: Singing.
Favorite writer: Cornelia Funke
Favorite song: Little Star by Standing Egg.