Ariana Perez Diener '21 and Christian Gehman '20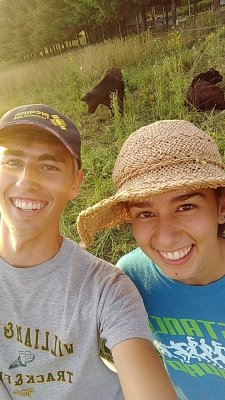 Ariana Perez Diener is an environmental and marine science major from Goshen, and Christian Gehman  is an environmental science and computer science major from Harrisonburg, Virginia. The two spent a summer studying prairie cattle grazing at Merry Lea Environmental Learning Center.
Ariana Perez Diener and Christian Gehman spent their summers as interns for the Goodrich Prairie Cattle Grazing Project. The Goodrich Prairie is a seven acre prairie located on the Merry Lea property. This project does research on different types of warm grass prairie management. It looks at interactions between fire, grazing, and this year resting.
The goal of the project is to determine whether grazing cattle on a prairie is a viable way to raise them, how fast they gain weight on a diet of prairie plants, what plants they prefer to eat, and how the prairie plants respond to a rotational grazing system. This involved sampling the prairie plants before grazing the cattle to determine what plants are in locations that have been grazed, as well as in locations that have not been grazed, and how those plants have changed from the year before. Gehman and Perez Diener also rotationally grazed angus lowline cattle for 21 days, and took data on which plants they ate and how much of them they ate, and then processed soil samples from the prairie.
"I learned how to identify many different prairie plants and collected data on the plant communities in the prairie," Perez Diener said. "This internship was a great experience to learn what it is like to do research in the field."