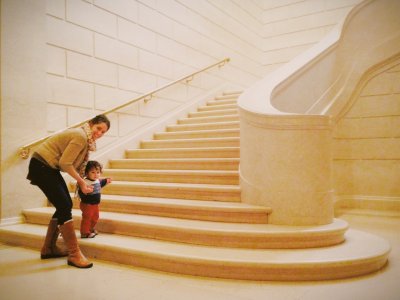 Alice Enzo currently works as an architect for Torti Gallas & Partners. This firm has a sensitivity for the past and the communities that live there. They work towards building an environment that is rooted in the history of that location, which they hope will continue to be loved for another 200 years. They are also building in a way that foster community rather than convince.
Enzo who was originally from New Jersey had no intention of coming to the Midwest for her undergraduate degree. However, after visiting many other schools, she felt that Goshen College was the best fit. She particularly found the campus community and the college's Study-Service Term program very appealing.
"My appreciation and respect for the past, and how it shapes the present was fostered during my years at Goshen College."
After Goshen College, Enzo pursued a Masters of Science in Architecture at Notre Dame that focused on the study of traditional architecture rather than a program that pushes for innovation and the individual creative vision. Here, graduate students learned to ask what shaped the design of these traditional buildings. She was able to see that by understanding the history behind these buildings that the architect's design choices were rooted in a cumulative human story. Instead of throwing away what has come before, building on what is already there results in buildings that have richness and depth.
She was inspired to pursue a career in architecture after working for the Pittsburgh parks conservancy where the professionals she worked with had to balance aesthetics with the needs of the community and the history of the parks. She was drawn to architecture because she enjoyed the challenge of creating something that was both beautiful and useful for the community.
When asked what advice she would have for current history majors at Goshen College, Enzo encouraged students to, "take the time to explore all of the different classes and topics offered, and make the most of discussing and honing your point of view with your classmates and professors. You'll never have quite the same opportunity to do so again."