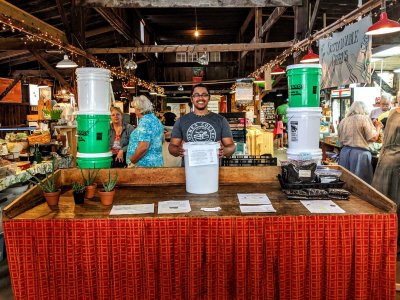 AJ Delgadillo wanted to improve society's food waste problem, so he took an idea and ran with it.
After trying to find a solution to dealing with food waste, he began exploring worm composting – or vermicomposting – and found it so helpful that he turned it into a business and a way for people to live more sustainable lives.
He started Post-Waste Worm Farm, and began offering a composting service for households to dispose of their food waste in an environmentally-friendly manner.
At the Goshen Farmers Market, his customers can bring in their collection bins full of food waste and swap out for clean ones as often as they choose. Delgadillo then takes that food waste to his composting site, where his red wiggler worm colony turns the scraps into rich worm castings, which he can sell by the pound.
In AJ's words:
"At the end of my lunch break I threw away the seeds and middle bits of my sweet pepper. As I did, I noticed banana peels, orange peels, grape vines that covered anything that actually needed to be in the trash can. I paused for a moment and went on my day.
"I had grown up in the country so food scraps would just get thrown into the brush and nature would take care of it. Now I was in a city, in an office most of the day and something about throwing away veggie scraps didn't feel right. I thought it would be neat to compost, but I didn't know how to do it in an office, let alone in the city.
"Later that week it dawned on me. Some corner of my mind echoed with the idea of an indoor worm box. A few moments of rapid googling exposed me to a whole world of worm farmers."
AJ graduated from Goshen College in 2017 with a degree in Peace, Justice, and Conflict Studies. After college, he was hired at the Center for Community Justice in Elkhart as a mediation facilitator/case manager. In early 2019, AJ was appointed by Goshen Mayor Jeremy Stutsman as a commissioner on the city's Community Relations Commission.