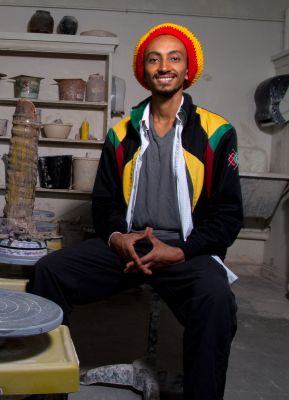 Abi Tsigie came from Ethiopia to Goshen College in 2008. As a student, he opened his own photography business, built strong friendships in the community and on campus and pursued his ultimate passion: creating art. 
Abi has been experimenting with photography and design for years. But in Ethiopia, where he grew up, his understanding of the arts remained limited.
"In Ethiopia, the making of art is seen as a common craft or trade — not intended for someone with an education, especially a Western education. But I always felt like art was so much more purposeful, and I really wanted to keep working at it."
At Goshen College, Abi took his first ceramics course and began to study art. It changed his life.
"Art is something that is part of everyday life, in simple ways, so I wondered how I could change the way people think about art to make it more significant. I believe that we can create change in our communities through art."
Some days, Abi works on his own art. In his senior exhibit, he combined photography and ceramics to create a moving visual series featuring women who remind him of his own mother.
On other days, Abi puts his talents to work beyond the college campus.
"I received a grant from the business department to set up my own studio, so I started Ras Studio. We're working on starting community outreach art programs, plus we provide a venue for local artists to meet and display their work."
As Abi continues to grow his business here in Goshen, he hopes to take the same vision back home with him.
"In Ethiopia, what does it mean for me to be an artist with a Western education? I hope to create a center for artists to meet and learn there, too, so I can use the arts to educate and develop a community through a peaceful and creative process."
— written by Anna Ruth '12, photos by Alex Pletcher '14