Ryan's Place Annual Seminar – Enhancing Cross Cultural Understanding of Grief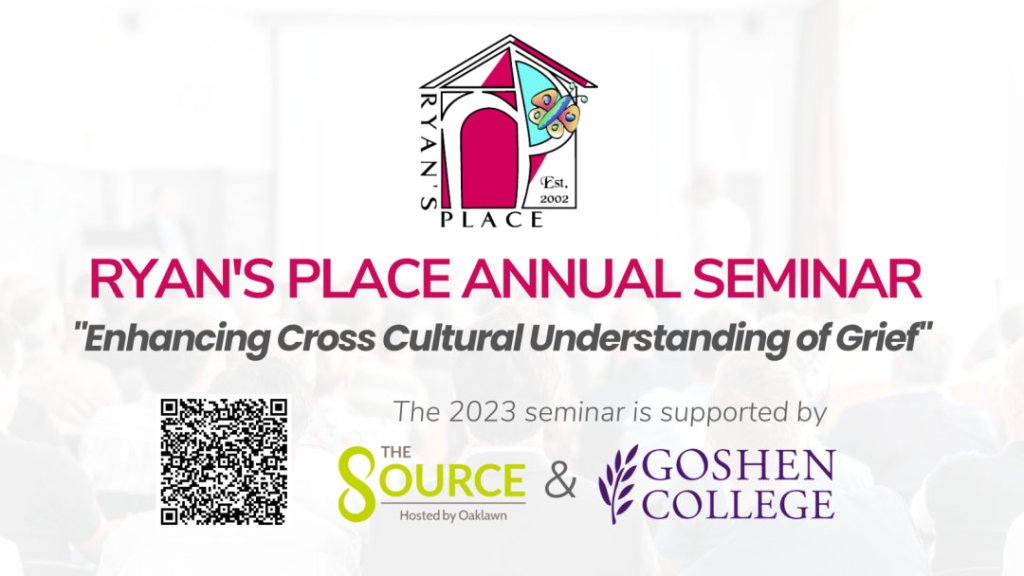 The death of a family member or friend is life altering to those close to them. Grief touches all areas of our life and is experienced mentally, emotionally, physically, spiritually and socially. While grief is a universal experience and a normal reaction to loss, grief may manifest in the lives of people in a variety of ways. Grief is impacted by many factors, including our personality, preferences, family, culture , and beliefs, to name a few. This seminar will explore how a person's death impacts individuals close to them and how a person's death reverberates throughout a community. We will explore how public losses from violent deaths to COVID deaths impact how we grieve as a society. This seminar will discuss various cultural aspects of grief and loss throughout our communities and ideas for awareness, engagement, and inclusion within groups providing bereavement support. Shared approaches to care, techniques for providing support and ideas for delivery methods that are client centered and comprehensive are included.
Speaker Andy McNeil:
Andy is the owner and CEO of The Satori Group, LLC, a national education, management and consulting company, providing education and consultation to non-profit organizations. He has served in a variety of leadership positions for grief organizations nationally, such as The National Alliance for Children's Grief, The Amelia Center at Children's of Alabama, and the Hospice of Martin and St. Lucie (now Treasure Health). He is the co-author of Understanding and Supporting Bereaved Children: A Practical Guide for Professionals.
Seminar Details:
Held at Goshen College on Friday, September 22, 2023 (8:00 a.m. to 4:30 p.m.), this year's seminar cost is $90 ($40 for students and retired professionals). Five CEUs and one ethics credit are available for attending the entire day.  The day's presentations will include keynote talks, networking, vendor exhibits, breakout sessions and panel discussions, along with a Q and A session with the keynote speaker. Tickets are available HERE. For more information, please contact jlayman@ryansplace.org or call 574.535.1000.