Vol. 45 No. 2

 The longest running departmental newsletter on campus.
Greetings:
Welcome, all, to the spring edition of the Psychology department newsletter! I'm excited to share that themes of applied psychology are sprinkled throughout this issue, from research being done to benefit the campus community, to the real-life application of research-based strategies in prison settings. I hope you enjoy!
-Hannah Friesen, 4th year, Department Assistant
On-Campus Happenings:
One of the annual goings-on in the Psychology department is that students in the upper-level Research and Methods class have the opportunity to design and conduct their own experiment. This year there were two research groups. One group studied the misinformation effect, basing their experiment off research done by psychologist Elizabeth Loftus. They examined the extent to which people's memory for event details can be swayed by other individuals' recollections. The second group researched whether interventions could increase undergraduate sense of belonging on campus. Their experiment included two independent variables: letter-based affirmations to improve professor-student relationships as well as framing techniques to alter students' interpretations of social experiences.
Both groups had the opportunity to present their research twice on campus, at a Psychology Forum and the Academic Symposium, where students across different majors at GC present projects and research. They then presented a third time at the Butler Undergraduate Research Conference, which has become an annual tradition for GC Psychology students to attend to attend. In addition to presenting, they sat in on sessions to hear what other students from around the state have been studying.
Says senior Alyssa Arella of the experience, "After listening to other presentations, I appreciated the work that we did during Research and Methods more and liked how we were able to take control and create our own experiment. I think preparing for and participating at Butler was a valuable experience that will help prepare me for my future."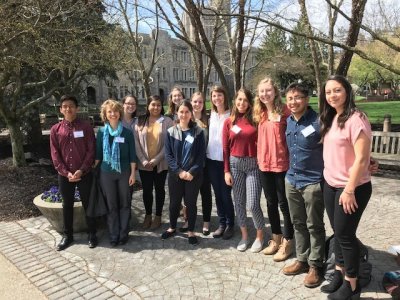 The students and their professors at the conference are pictured below from left to right: Jose Ortiz, Julie Reese, Alyssa Arella, Diana Ortega, Elizabeth Eichelberger, Sarah Martin, Emma Schrock, Amanda Sensenig, Makenna Bierbaum, Hannah Friesen, Irving Suarez, Diana Ramirez.
In the Research:
Mental health is one of the most major, multi-dimensional issues facing prison systems. In the US, 37% of prison inmates have a history of mental health problems. Mental health likely plays a role in some instances of antisocial behavior, but rather than receiving treatment in the community, many people are locked behind bars. To compound upon the issue, the prison system itself often fails to address mental health needs.
The good news is that evidence-based approaches are currently being applied to help solve some of these issues. In one 6-month-long program inside a prison, inmates spend 155 hours in group and individual therapy, receiving not just mental health care but also learning to address antisocial thinking and behavior patterns. It remains to be seen whether this will impact the 80% recidivism rate for people returning to prison within 6 months of release.
Elsewhere, psychologist Craig Haney has found that solitary confinement contributes to experiences of depression, memory problems, difficulty concentrating, irritability, anger, decreased appetite, heart palpitations, sense of impending emotional breakdown, sleeplessness, heightened anxiety and paranoia. Haney has worked to alter the way solitary confinement is relied
upon as a solution in prison systems, testifying to increase the hours inmates spend outside the cell each day, as well as to improve access to educational classes. Haney has studied Norwegian prisons, where recidivism is much lower than in the US system, and has found that in Norway, prisons allow for increased freedom of movement, less use of solitary confinement, and officers trained to identify the root of altercations rather than quickly relying on punishment as a solution (Stringer, 2019).
References:
Stringer, H. (2019, March). Improving Mental Health for Inmates. Monitor on Psychology, 46-53.