Abby Nafziger is a 2006 graduate with a Bachelors and a Master's in Library and Information Science. She now works as a technical service librarian for the Goshen Good Library. She lives in Goshen with her husband, Alex, and son, Hans.
What brought you from History to Library Science?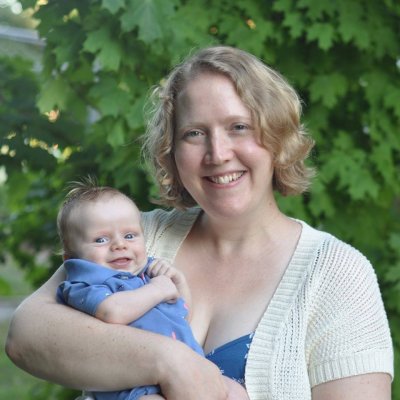 "I graduated with a degree in history and not a huge amount of clarity about what I wanted to do with it. I loved history, but I wasn't sure what my next step was." Abby started working at a high school library where she worked as an aide where she discovered her interest in library work. "It occurred to me that I'd always loved libraries. I like books, I like history" "libraries brought together all the things that I loved." With the encouragement of her mentor, Abby decided to pursue a Master's Degree at Dominican University in Illinois. Abby graduated in 2011.
You made the choice to work at GC, what about the community here encouraged you to come back?
"If you'd asked me 13 years ago, I probably wouldn't say 'I'm definitely moving back to Goshen to work at Goshen College and raise my children there.'"
However, she noted that part of what drew her back to Goshen was the people and community. "Goshen has come a long way, both the college and the community. Today the Goshen community has a lot more things to do, the community is growing, and I get to engage in new ways."
Abby also reflected on the changes to the Goshen campus. "I think it's amazing to see the work that GC has done in the last ten years. I'm thrilled that the college is much more diverse now than it was when I used to go here and that I get to come back and be a part of that in a small way."
What is a piece of advice you would give to a history major heading into your field?
"I have two things: first, explore some of the other classes that compliment a history degree. History is not a degree where your degree takes you directly to one specific field. Some of the strengths of a History major are reading and writing, but they go best with practical skills. So take a business class, a computer programming class, an art class. Having the ability to do basic online stuff is also hugely important. Take practical classes to round out your resume.
Second: pursue internships. As much as you can, get into whatever field you're interested in to get experience. I was really lucky that I was able to work in a library long enough to know that was what I wanted to pursue. So seek out ways to find internships and take skill-based classes when trying to find what you want to do with your history major. Because there are so many things you can do with it!"
Closing thoughts
"One of the core things you take away from your history degree is the ability to read and write really well. That sometimes can sound overly simplified, but being able to write a good argument is really important in being able to communicate and is useful in so many ways. Even when I wasn't working in Libraries, I felt very strongly that I was using the information I learned in my undergrad and graduate field. Now, I'm using more of my skills directly, but the abilities you gain can be used in almost any field."
–Written by Elijah Lora 20'