High School Students Visit Goshen College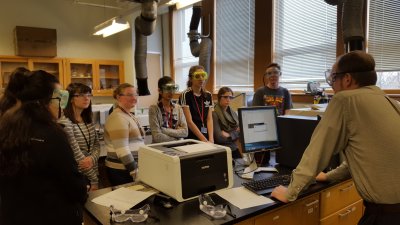 Goshen College has modern analytical instrumentation including NMR, IR, GC-MS, and UV-Vis Spectrometers.  One of the benefits of having this instrumentation is that we are able to share it with those around us, particularly our local high schools.  In 2017, 64 students from three local high schools completed an organic chemistry experiment in their labs and brought their products to Goshen College for analysis.
The competitive ester synthesis that these students completed gave them a product that contained at least two esters, which we were able to analyze and separate on campus using our Infrared Spectrometer and Gas Chromatograph-Mass Spectrometer.  Students were able to prepare their samples and analyze them on our instruments while learning about the instruments from our faculty.