Measuring Assets in the Carbon Economy
Measuring Assets in the Carbon Economy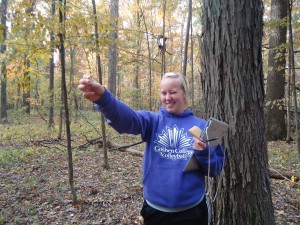 Someday owners of forests and fields will earn revenue from the carbon stored in their land.  This day has already arrived at Goshen College, where a recent sale of carbon credit from a restored prairie generated a minor source of income and a major learning opportunity for three students in the Economics of the Environment course.
Alli Hawkins (Business), David Harnish (History), Chelsea Frederick (Biology) and economics professor Jerrell Ross Richer recently toured the restored prairie and a nearby parcel of woods at Goshen College's Merry Lea Environmental Learning Center with Bill Minter, Director of Land Management.  Minter is a certified professional forester with expertise in measuring the carbon absorbed by trees in forests and long-rooted plants in prairies.  Last year he worked with the Delta Institute to sell carbon credits on the Chicago Climate Exchange, earning $5.00 per acre for the 35 acre plot known as Lucky Prairie.
"It's admittedly not going to change the finances for Merry Lea, but you can take pride in being the very first college to do something like this!  Though a few big schools are full members of CCX, none to my knowledge have ever quantified or registered their own lands," said Ryan Anderson of the Delta Institute.
During their visit to Merry Lea the students learned how to use prisms and tape measures to estimate the amount of carbon sequestered in the trunks and roots of trees.  Later Minter showed them a cross section of soil at the edge of a restored prairie to get a better look at the roots that store carbon year round.
On December 3 the students will share what they learn with members of the Ecological Stewardship Committee.  GC President Jim Brenneman, a charter signatory to the Presidents' Climate Commitment, has set a goal of carbon neutrality — no net emissions of greenhouse gases.  The students hope that carbon sequestration projects on the land owned and managed by the college will provide one means of reaching this goal.