Process for Responding to Violation of Standards
As a community of higher education, Goshen College seeks to center its campus life on the Core Values. Christ-centered, passionate learners, servant leaders, compassionate peacemakers, and global citizens are what we seek to become and emulate in our relationships with each other. Similar values and principles inform program, policy, and relationships within Student Life.
Five Ethical Principles in Student Conduct
Student development theory reflects the typical developmental tasks commonly engaged by young adults during the point in their lives when most students decide to pursue higher education. Most are making decisions and investing in relationships which will impact them for years to come. Student development theory provides a framework for empowering students in these life tasks.
The five ethical principles that inform our work as student conduct are 

1) Autonomy, 2) Prevent Harm, 3) Do Good 4) Justice 5) Fidelity.
In the goal of autonomy, we recognize the need for students to become increasingly independent. With a clearer sense of self, students develop an increased sense of confidence and self-direction. Students must answer the question, "What does it mean to become independent and responsible? Secondly, within this increased sense of autonomy, we must prevent harm. Safety policies (e.g. Community Standards) are designed to prevent harm to individuals and groups; safety plans (e.g. fire drills) are in place to respond to harmful situations should they occur. However, avoiding harm is not an end in itself; we also provide the opportunity to do good. Student Life promotes positive modeling, direction and leadership opportunities. Student groups, clubs, and events provide opportunities for students to contribute to a life-giving campus life. Interacting within a campus context, we treat each other with equity. Student Life professionals value justice; recognizing that individuals are different, we retain objectivity in our perception of each other. We also understand that trust is critical for developing relationships. Fidelity is reflected in our commitment to confidentiality, professionalism, and acknowledgment of our abilities and limitations. To be most meaningful, trust and confidentiality is embraced by both faculty and students when engaging in sensitive issues.
Process for Responding to Violation of Standards
As a means to achieve restorative outcomes, primary principles of restorative justice must be understood. They include the following:
• Clarity and agreement among all parties regarding the facts in a given incident.
• Clarity and understanding regarding the roles and responsibilities of individuals
and Goshen College in a given incident if deemed appropriate.
• Willingness by those involved to accept responsibility for their actions.
• Communication by those involved regarding desired steps to make right the wrongs experienced.
• Willingness by those involved to respond and work to make right the wrong experienced.
• Agreement on restorative steps and outcomes among all those involved.
• Honored confidentiality throughout the process.
Violations against Community Standards are offenses against people, relationships, and the community. A witness to the violation should confront the violator or violators and together work out a resolution in keeping with the standards. If the violators refuse to work out an agreement, then a member of the Residence Life Team will be brought into the discussion. One of these persons will process the allegation to determine the facts and present them before the appropriate response team. The Resident Assistant plays an important role in confronting, listening to and supporting those involved in standards violations. RAs serve to repair the relationship and integrate those involved and the community as much as possible.
It is hoped that students will self-manage and resolve conflicts on an individual level. Student Life professionals are available to empower students to deal cooperatively and constructively with conflicts, disputes and offenses.
For those incidences that are not resolved individually, or there is a lack of responsibility for the violation, the situation will move to a more formal process. Students involved in a first-time category-1 violation of a community standard will meet with a Resident Director to reach a common understanding and attempt to reach a restorative outcome and appropriate disciplinary response. All standards violations are processed on a case-by-case basis. The incident report will be referred to the Conduct Review Board if Residence Life is unable to facilitate a common understanding with the student, the facts of the incident are unclear, or the student involved is on disciplinary probation.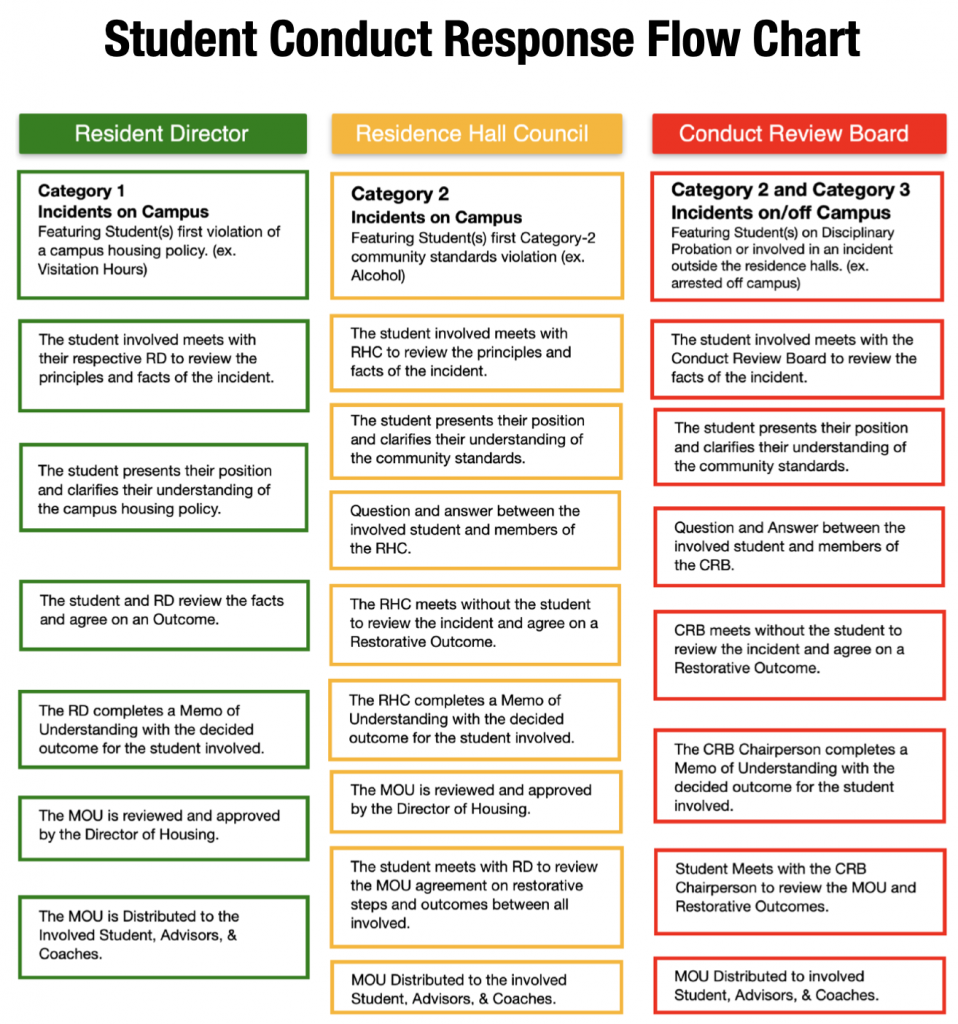 Adjudicators
Resident Directors: RDs will meet one-on-one with students from their area involved in Category-1 violations of campus housing policies.
Residence Hall Council: RHC is comprised of three resident directors and one student. RHC will meet as a group with students (not on disciplinary probation) who are involved in a category-2 standards violations.
Conduct Review Board: CRB is comprised of three administrative faculty members representing student life and academics. CRB meets with students on probation who violate category-2 community standards or residence hall policy. CRB will also meet with students for incidents that happen either off-campus or outside the residence halls.
Appeals Process
Appeals to conduct outcomes must be submitted by the student in writing to the CRB moderator within 5-days after sanctions were communicated.
Appeals are limited to the following grounds:
• Procedural irregularity, such as an omitted or incomplete procedure, that affected the outcome of the matter.
• Disproportionate sanctions not commensurate with the severity of the offense or not supported by evidence verified through the investigation and adjudication process.
• New evidence that was not reasonably available at the time the determination regarding responsibility or dismissal was made, that could affect the outcome of the matter; and
• New evidence of conflict of interest or bias against the parties on the part of conduct process personnel (such as the hearing panel members).
Appellate Panel:
The appellate panel is made up of three vice presidents overseeing conduct areas or their designee from Academic Affairs, Student Life, and Human Resources. If a vice president or their designee has demonstrated conflict of interest or bias with any of the parties or had a role in the grievance process were involved in the conduct process, they may not serve on the panel and will appoint a qualified designee.