Intercultural Requirements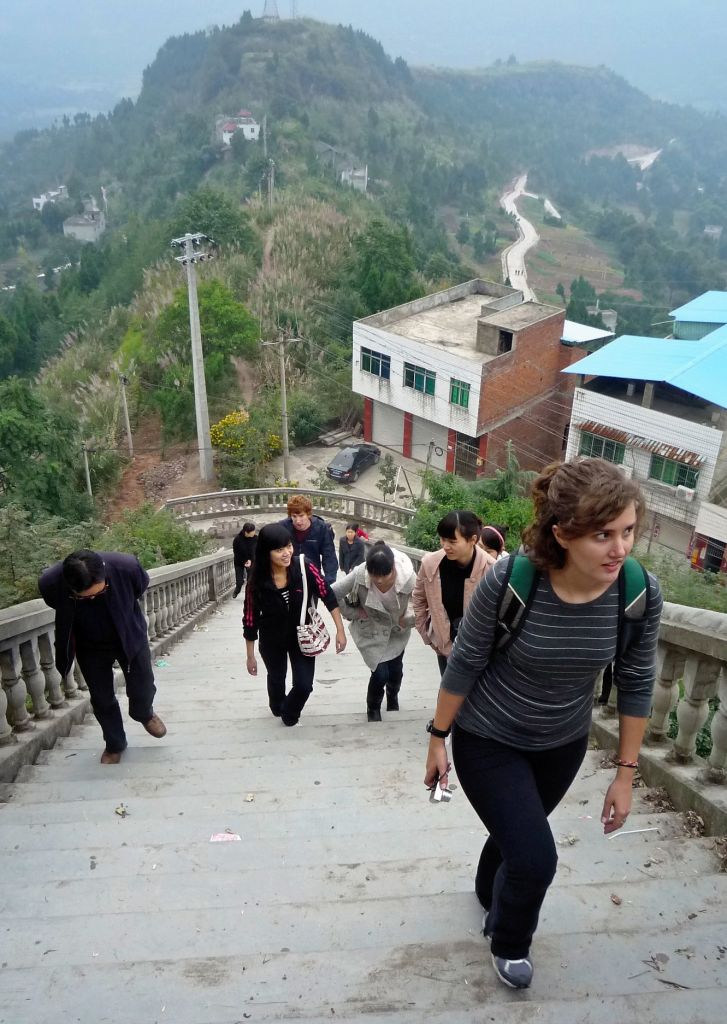 One of the five core values at the foundation of Goshen College is global citizenship, so intercultural study is an important component of the Goshen Core. The three ways to meet the intercultural study requirement are:
International Study-Service Term

Short-term courses in the U.S. or abroad
Study abroad with other international programs
1. International Study-Service Term: 15 credits
Immerses groups of students in a significantly different culture for a semester, with a faculty leader studying a particular global issue of current concern. Includes study of language and culture, a service learning placement, and home stays with host families. Prerequisite is language competence equivalent to two semesters of college-level study.
Credit hours and evaluation for international SST
Foreign language: 4 credits
Cultural Perspectives: 3 credits
Global Topics: 3 credits
Community Engaged Learning: 3 credits
SST Integration Capstone: 2 credits
Prerequisites for SST
Students are responsible for completing these essential prerequisites prior to SST. The director of international education must approve any exceptions.
A. French, American Sign Language or Spanish: Students participating in unit that will speak these languages need to establish 102-level competency (by course or on-campus test) in the language of the country.
B. Students headed elsewhere will complete one elementary course in Chinese, Bahasa or Swahili, offered on campus especially for that SST group prior to departure. Because Goshen College offers only 101-level coursework in these languages, students are asked to take another course relevant to the region they will visit. See the list below and verify your choice with the registrar. Students can also fulfill the requirement with 101-level competency in a third language or a course selected from a third language.
BUS 350: International Business
COMM 206: Communication Across Cultures
ECON 306: International Economics
ECON 308: Introduction to Economic Development
ENG 201: World Literature
ENG 310: Introduction to Linguistics
HIST 330: Gender in World History
HIST 350: African History
PHIL 307: Asian Thought
REL 220: Introduction to World Religions
REL 317: Islam
SOC 230: Ethnography and Culture
SOC 340: African Societies and Cultures
2. On-Campus Alternative Courses: 12 credits
A. The language requirement can be met with 102 level proficiency in any language.
B. On-campus courses: We have one semester-long SST unit based at GC: Dreams and Journeys, Immigrants and Refugees, scheduled for Spring Term 20-21. Other courses may be spread over one, two, three or four semesters. Select three SST Alt courses. See which are offered in 20-21.
C. Short term international courses: Some May Term courses that take place in other countries count toward SST alternative credit. Check with the director of international education to see which ones qualify.
D. Modified requirement for nursing and education students who elect the alternative program. Earn 12 credits as follows: The same language requirement, two courses from the registrar's SST alt list and: 
Education majors incorporate 1 diverse field experience course, which replaces the third SST alt course expected of others.
Nursing majors incorporate 1 community health clinical course, which replaces the third SST alt course expected of others.
3. Study abroad with other international programs
Study abroad is available at colleges or universities in many different countries. Special application must be made on forms available from the international education office. Goshen College students have access to approved study-abroad programs through affiliation with the following organizations:
Goshen College students in these affiliated programs will be registered as students at Goshen College in absentia. Credit may count for international education requirements only with the approval of the director of international education. Approval for credit equivalency does not mean that Goshen College financial aid will apply. See next section.
Financial aid policies
For the list of affiliated international study programs in the previous paragraph, sources of student financial aid and scholarships are limited to funding outside of Goshen College such as Pell Grants, state grants, outside scholarships, church aid and Guaranteed Student Loans.
Only when the international program is required by the student's major and there is no alternative available on campus may Goshen College scholarships and financial aid be used. An application must be submitted and the major must be declared by spring advising days prior to the year of off-campus study. Contact the financial aid office for more information.
Programs which are not on the approved list above may be eligible for credit transfer, but students who choose to enroll in programs that have no affiliation with Goshen College cannot apply for any sort of financial aid through Goshen College.
Other study abroad options with Goshen College
Goshen College also offers study abroad courses related to specific majors. These generally are counted toward a major, but some qualify as SST alternatives or may apply toward the minor in international studies.  Check with the registrar.
Short term study abroad: Special courses abroad take place during the May Term or summer. Locations vary, but recent courses have operated in England, Spain, Morocco, Greece, Italy and Mexico. Earn credits in several areas, among them art, business, history, language, literature, music, theater, religion and peace, justice and conflict studies. 
Minor in international studies: Students who have already completed SST or an equivalent semester of study abroad can earn this minor by taking five additional courses selected from the on-campus alternatives to SST listed above.