Ecuador added as study abroad location with focus on indigenous cultures and sustainability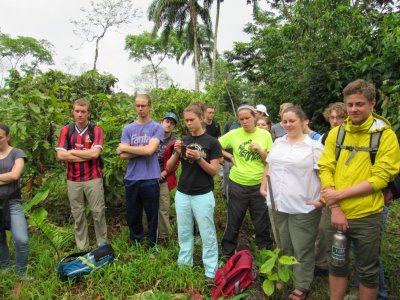 Goshen College will move the location of its Spanish-speaking study abroad program, Study-Service Term (SST), in South America from Peru to Ecuador beginning in the fall of 2019. Indigenous cultures and sustainability will be two key themes of this new location.
Tom Meyers, director of international education, cited logistical issues in Peru, as well as a new partnership opportunity in Ecuador, as the main reasons for the change. Since 2005, more than 600 Goshen College students in 37 different units have studied and served in Peru.
"We have had a marvelous program in Peru," said Meyers. "Our hosts and partners have been delightful people to work with and our students have been warmly received by Peruvians. We leave Peru with a great deal of sadness and will continue to have a strong relationship with our partners in Lima and elsewhere."
As with the Peru SST program, the Ecuador SST program will take place year-round, sending students in the fall, spring and summer semesters.
The Cofán Survival Fund, an organization dedicated to the survival of the Cofán indigenous culture and its Amazonian rain forest environment, will be the program's official sponsor and partner.
"This organization has been working for decades to help preserve the fragile ecosystem of the Amazon and the indigenous people who live there," Meyers said. "Students will have many opportunities to learn directly about the sustainability work of the Cofán Survival Fund and other organizations in Ecuador."
Students will visit the Amazon rainforest and other cultural and historic sites, study Spanish language and Ecuadorian culture and history in Quito and travel to smaller towns and villages for the service portion of the semester. As with the program in Peru, a sign language track will be available every other year.
Ecuador will be the 25th country to host SST groups from Goshen College in the 50 years that the program has existed. Other current locations include China, Indonesia, Senegal and Tanzania.
Since 1968, more than 8,000 students have traveled to 24 countries worldwide through Goshen's nationally-recognized SST program that offers the uncommon combination of a semester-long immersive cultural education and service-learning opportunity.