GC welcomes largest incoming class in eight years
Goshen College welcomed its largest incoming class since 2009, enrolling a total of 215 first-year students, a 16 percent increase from last year's class. In addition, 55 students transferred to Goshen, for a total of 270 new students.
Overall enrollment reached 950 total students, up nine percent from 2016-17, with 750 traditional undergraduate students, 133 students in adult programs and 67 students in graduate programs.


"This marks the third year of consecutive enrollment growth and we are excited to have such an exceptional class,"  said Interim President Dr. Ken Newbold. "We have added academic programs, expanded athletic opportunities and created new co-curricular initiatives that enhance our increasingly diverse community of scholars and provide an enriching learning experience."

2017-18 enrollment by the numbers:
First year class: 215
Transfer students: 55
Total traditional undergraduate: 750
Adult program students: 133
Graduate students: 67
Total enrollment: 950
The diversity of the student body also continues to increase. Overall, 36 percent are students of color. And for the fourth year in a row, GC's first-year class is the most diverse in its history, with 49 percent of traditional first-year students identifying as non-white. Enrollment of Latino students is again high, with 32 percent of incoming first-year students identifying as Latino, bringing the overall percentage of traditional undergraduate Latino students on campus to 23 percent, a number that has steadily risen from six percent in the past 10 years.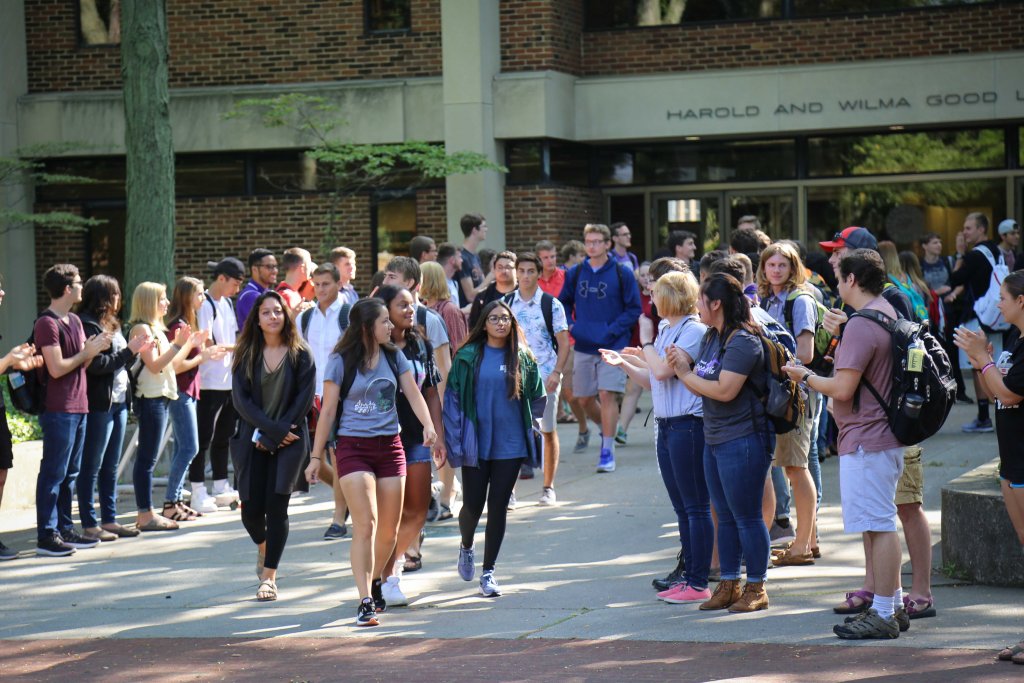 Sixty-seven students are pursuing master's degrees in one of Goshen's graduate programs — nursing (family nurse practitioner), environmental education and the online Master of Business Administration.
The college enrolled 133 students in adult degree completion programs, which include organizational leadership, social work, and on-site and online nursing R.N. to B.S.N. programs.
Retention — a key measure of student satisfaction — continues to be higher than national averages at 78.4 percent.
"GC continues to attract high-caliber students, thanks to the quality of our education, our affordability and the proven outcomes of our graduates," said Adela Hufford, dean of admissions. "We have worked tirelessly to cultivate new relationships and find ways to bring new students into the GC family, and seeing continued enrollment growth, especially in today's higher ed environment, is a testament that we're doing things right."
Profile of Goshen College's Class of 2021 (traditional undergraduate students):
 60 percent female, 40 percent male
24 states and 8 countries are represented
From Indiana: 58%
Racial/ethnic breakdown:

American Indian or Alaska Native: 1%
Asian: 2.3%
Black or African American: 6%
Hispanic or Latino/a: 31.6%
Native Hawaiian or Pacific Islander: 0.5%
International: 3.7%
Two or more races: 2.8%
White: 51.1%
Unknown: 1%

Average GPA: 3.52
The top declared majors are nursing, music, biology, business, American Sign Language and elementary education.