Film students win Telly Awards, nominated for regional Emmy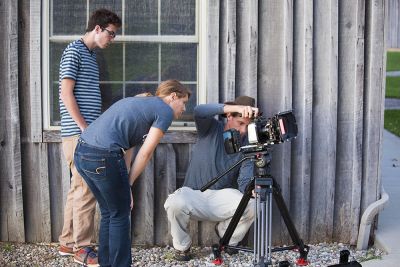 Students at Goshen College's video production company, FiveCore Media, have received two Telly Awards and were nominated for a regional Emmy award this spring.
FiveCore students received Telly's highest award, a Silver Telly, for their work on "The Shopper," a commercial for the Goshen Chamber of Commerce as a part of the Good of Goshen Campaign. A six-video campaign for Merry Lea's educational programs earned Fivecore a bronze Telly.
The Telly Awards are a national competition designed to distinguish commercials, video, film productions and work created for the web. The Telly is one of the most sought-after awards by industry leaders, from large international firms to local production companies and ad agencies. The 36th Annual Telly Awards received more than 13,000 entries from all 50 states and five continents.
FiveCore Media was also nominated for a regional Emmy award for its 2014 "A Festival of Carols" video, which aired in December 2015 on PBS stations in Indiana. This is the second consecutive year FiveCore has been nominated for an Emmy award. The awards ceremony will take place on June 18, 2015 in Sandusky, Ohio.
The filming of "A Festival of Carols," involved nine camera locations, several hundred feet of cabling, 11 student crew members, three days of shooting and the efforts of several different campus departments. The result is a festive 74-minute program that captures the spirit of Christmas at Goshen College.
"Working on a project that requires a certain level of quality beyond what is passable for a class project pushed me to learn what really makes a video worth paying for," said Elizabeth Derstine, a 2016 graduate and FiveCore team member. "I was able to work with equipment that I wouldn't have had access to otherwise, and learned how to film as part of a larger team – not simply solo shooting."
Earlier this year, FiveCore Media won three ADDY Awards from the American Advertising Federation (AAF) of Michiana and four Broadcast Education Association (BEA) awards.
"FiveCore Media provides incredible opportunities to work collaboratively on a variety of projects," said FiveCore Assistant Producer Jake Smucker. "The faculty provide excellent leadership and we learn new things every day from the talented student staff we get to work with."
Through Goshen College's new film production major, students have opportunities to take courses that include all phases of film production, such as scriptwriting, producing, directing, cinematography, editing and motion graphics.
"Being part of FiveCore Media has been, for my career path, one of the most valuable experiences I've had at Goshen College," Derstine said.
FiveCore Media is a video production company located in Goshen, Indiana, comprised of creative professionals and a group of gifted Goshen College communication students. FiveCore Media writes, produces and edits videos including commercials, promotional and informational videos.
To learn more about FiveCore Media, visit their website or contact Kyle Hufford at 574-535-7192 or email at khufford@goshen.edu.