Broadcasting students nab six national Broadcast Educators Association awards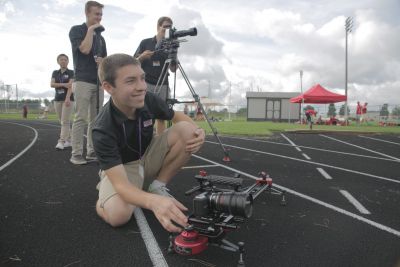 Students working with the Goshen College's radio station 91.1 FM The Globe (WGCS) and video production company FiveCore Media are adding more hardware to their collection with four video awards and two radio awards from the Broadcast Education Association (BEA).
"This is beyond any of our expectations based on the level of competition and number of entries this year," said Kyle Hufford, assistant professor of communication and FiveCore Media general manager. "It's hard to quantify how extraordinary it is for a school our size and with our resources to be mentioned in the same breath with the likes of USC, Arizona State or the University of Alabama. This does not normally happen in our discipline."
Awards include:
Radio:
WGCS was named "Signature Station – Runner Up." The Signature Station award is the highest radio honor given by BEA.
Victor Garcia, a senior communication major from Goshen, received third place for "On Air Personality." 
Video:
A student-produced short film titled "Shh…" earned honorable mention for "Student Narrative Video" The students who created the film include Elizabeth Derstine, a senior communication and English writing double major from Goshen, writer/producer; David Leaman-Miller, a junior communication major from Denver, editing/sound/visual effects; Jared Zook, a 2015 graduate, cinematography; and Benson Hostetter, a 2015 graduate, director.
Watch "Shh…"
A commercial spot titled "David's Story – Goshen College Career Stories Campaign" earned honorable mention for "Student Commercial Spot – Less Than 90 Seconds." The commercial was produced and edited by Jake Smucker, a 2015 graduate and FiveCore Media assistant producer, and Abby Deaton, a 2015 graduate.
Watch "David's Story"
The film "Festival of Carols 2014" earned honorable mention for "Student Studio Multicam Production." Elizabeth Derstine and Abby Deaton won this award for their work on this production. Many students worked to make this production happen with over 12 Communication Department students working on the live-to-tape Christmas program.
Watch behind the scenes of "Festival of Carols 2014"
"Wooden Music" earned the Award of Excellence for "Faculty Promotional Video." Assistant Professor of Communication and FiveCore Media General Manager Kyle Hufford, along with Jake Smucker and Abby Deaton, won this award for their work on a feature video for the Good of Goshen campaign that highlighted the craftsmanship and entrepreneur atmosphere in Goshen.
Watch "Wooden Music"
The BEA awards recieved more than 1,500 entries from more than 100 colleges and universities in the nation of all sizes. Prizes will be awarded during BEA's annual convention and Festival of Media Arts on April 17-20, 2016 in Las Vegas, Nevada.
WGCS has been on the air since 1958 and is staffed by about 40 student workers and community volunteers. It is one of the college's most popular co-curricular activities, preparing students to become broadcast professionals while providing a service to the Michiana community.
FiveCore Media is a video production company located in Goshen, Indiana, comprised of creative professionals and a group of gifted Goshen College communication students. FiveCore Media writes, produces and edits videos including commercials, promotional and informational videos.
The award-winning Goshen College Broadcasting Program is designed to create a professional training environment for students moving into the industry. Students are immersed in real-world video and audio experiences from their first year. Real-world experience is at the heart of the GC Broadcasting Program, which is why it has been named multiple times Best College Radio Station in the Nation, Indiana Radio School of the Year and Indiana Television School of the Year.