FiveCore Media picks up three Michiana ADDY Awards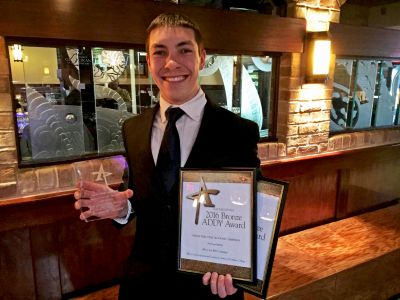 FiveCore Media, Goshen College's video production company, won a silver and two bronze ADDY Awards for digital advertising campaigns from the American Advertising Federation (AAF) of Michiana last week.
The awards were presented at the annual AAF Michiana chapter awards ceremony on Thursday, Feb. 25 in Mishawaka, Indiana.
"To bring in videos produced by students at Goshen College and come away with three professional awards is pretty exciting," said Jake Smucker, assistant producer at FiveCore Media. "Our students worked really hard this year to produce the quality and quantity of videos that we did, but even so, we did not expect to win two bronze ADDYs and a silver ADDY. It's very encouraging that we're doing the right things at FiveCore Media."
According to Kyle Hufford, FiveCore Media general manager and assistant professor of communication, working on these projects is a unique opportunity for Goshen College students.
"On one level, I'm surprised by how well our work did this year, and yet on another level I'm not," Hufford said. "This is what we expect of ourselves. We strive to do education in different and innovative ways. Part of that is the emphasis on experiential education with programs like FiveCore Media. The other side to that is bringing the students abilities up to the level of a professional before they leave college. College is no longer a place to only learn theory, we have to be a learning lab that simulates the conditions of our industry."
The ADDY Awards are the advertising industry's largest and most representative competition, attracting more than 40,000 entries every year in local AAF Club competitions. Conducted annually by the American Advertising Federation (AAF), the local phase is the first of a three-tier, national competition. At the second tier, local ADDY winners compete against winners from other local clubs in one of 15 district competitions. District ADDY winners are then forwarded to the third tier, the national stage of the American Advertising Awards.
The awards included:
Silver Addy Award: "Wooden Music – The Good of Goshen"
Category: Internet Commercial: Single Spot
Produced for the Good of Goshen campaign's second year, this mini-documentary tells the story of Jim Shenk, who started his own handmade guitar shop near downtown Goshen. "Wooden Music" recently won an Award of Excellence in the national BEA faculty video competition as well. The video was directed by Kyle Hufford, produced by Jake Smucker, a 2015 graduate, and edited by Abby Deaton, a 2015 graduate.
---
---

Bronze ADDY Award: "Merry Lea Web Campaign"
Category: Online Film, Video & Sound Campaign
This six-video campaign promotes programs at Merry Lea Environmental Learning Center of Goshen College, focusing on Merry Lea's Master of Arts in Environmental Education and their two undergraduate programs, Sustainability Leadership Semester and Agroecology Summer Intensive. The campaign was directed by Hufford and produced by Smucker. David Leaman-Miller, a junior from Denver, Colorado, served as assistant producer and Timothy Litwiller, a sophomore from Peoria, Arizona, was the production assistant. Elizabeth Derstine, a senior from Lancaster, Pennsylvania, Carley Wyse, a senior from Archbold, Ohio, and Jesse Bontreger, a junior from Goshen, also helped to produce the campaign.
---
---

Bronze ADDY  Award: "Goshen College Adult & Graduate Programs"
Category: Television: Local Campaign
This video campaign includes six one-minute videos for the Goshen College Adult and Continuing Studies and Graduate Programs. Each of the six videos in the campaign focuses on a different student, alumni or employer. "David's Story" from this campaign recently won an honorable mention in the national Broadcast Educators Association student video competition. The campaign was directed by Hufford, produced by Smucker and edited by Deaton.
---
---