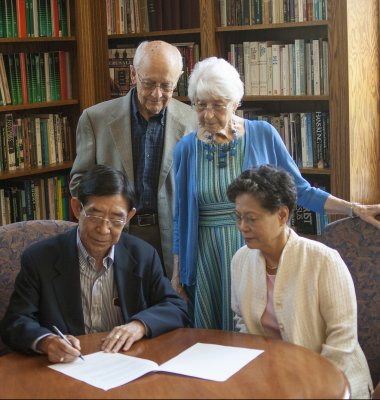 Scholarship funding available to students through endowed and designated funds provides assistance to help make the cost of education affordable.
Goshen College is committed to providing students an excellent Christ-centered education at a reasonable tuition rate, while incurring less debt than they would at many public and private colleges. We thank those who have invested in our student's lives and in their potential to influence the world as passionate learners, servant leaders, compassionate peacemakers and global citizens.
Endowed scholarships are often established as a legacy to honor or memorialize a family member through a named fund. The generosity of scholarship fund donors makes it possible for many students to borrow less for their Goshen College education. To receive more information concerning establishing a scholarship fund, please contact a development officer.
An endowed scholarship fund at Goshen College can be started with any amount but a plan needs to be established to build the fund to $50,000 through a one-time gift, an established pledge, or through a planned or estate gift.
Privately-funded Scholarships at Goshen College