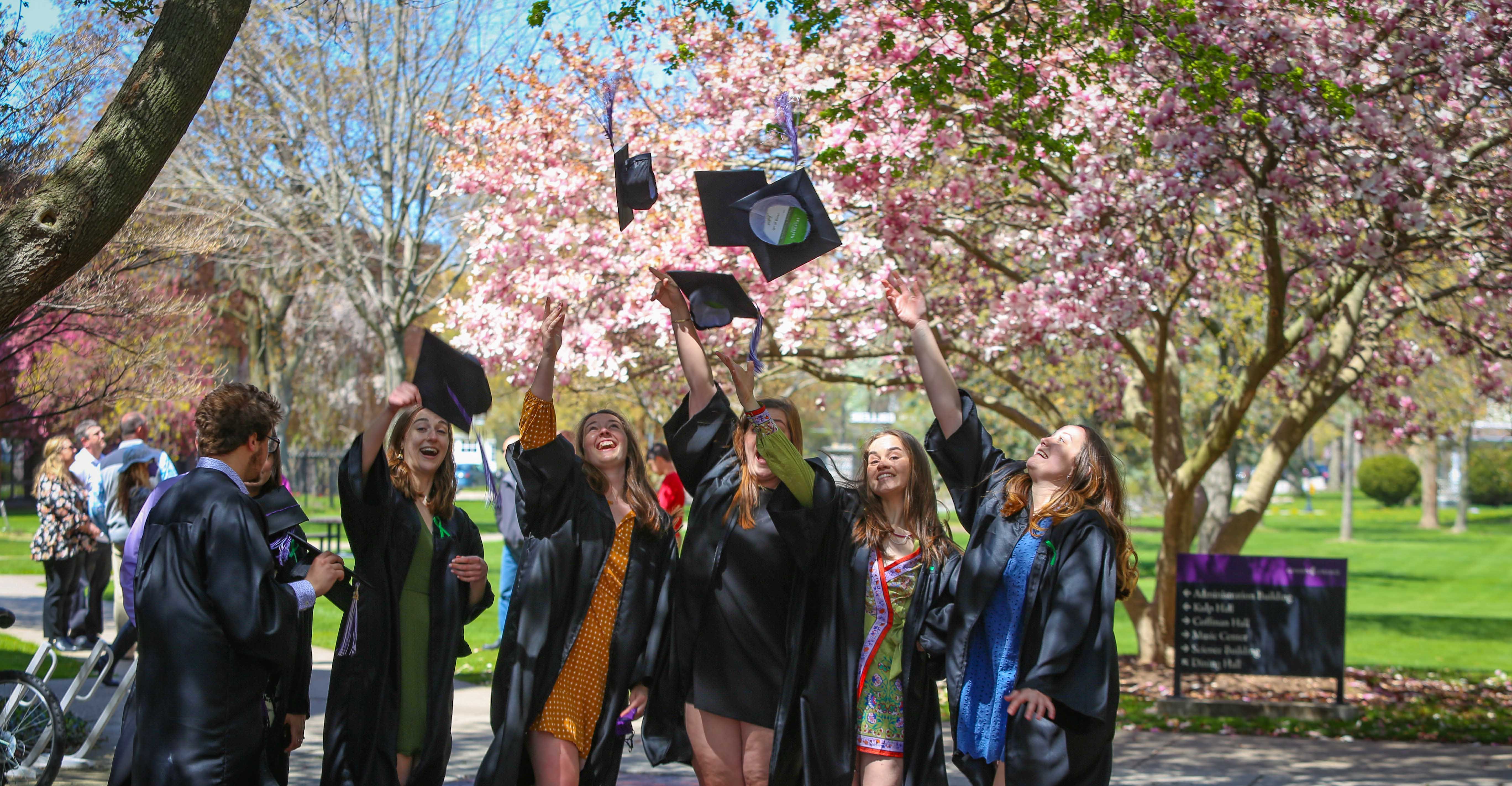 Connect your gifts to student success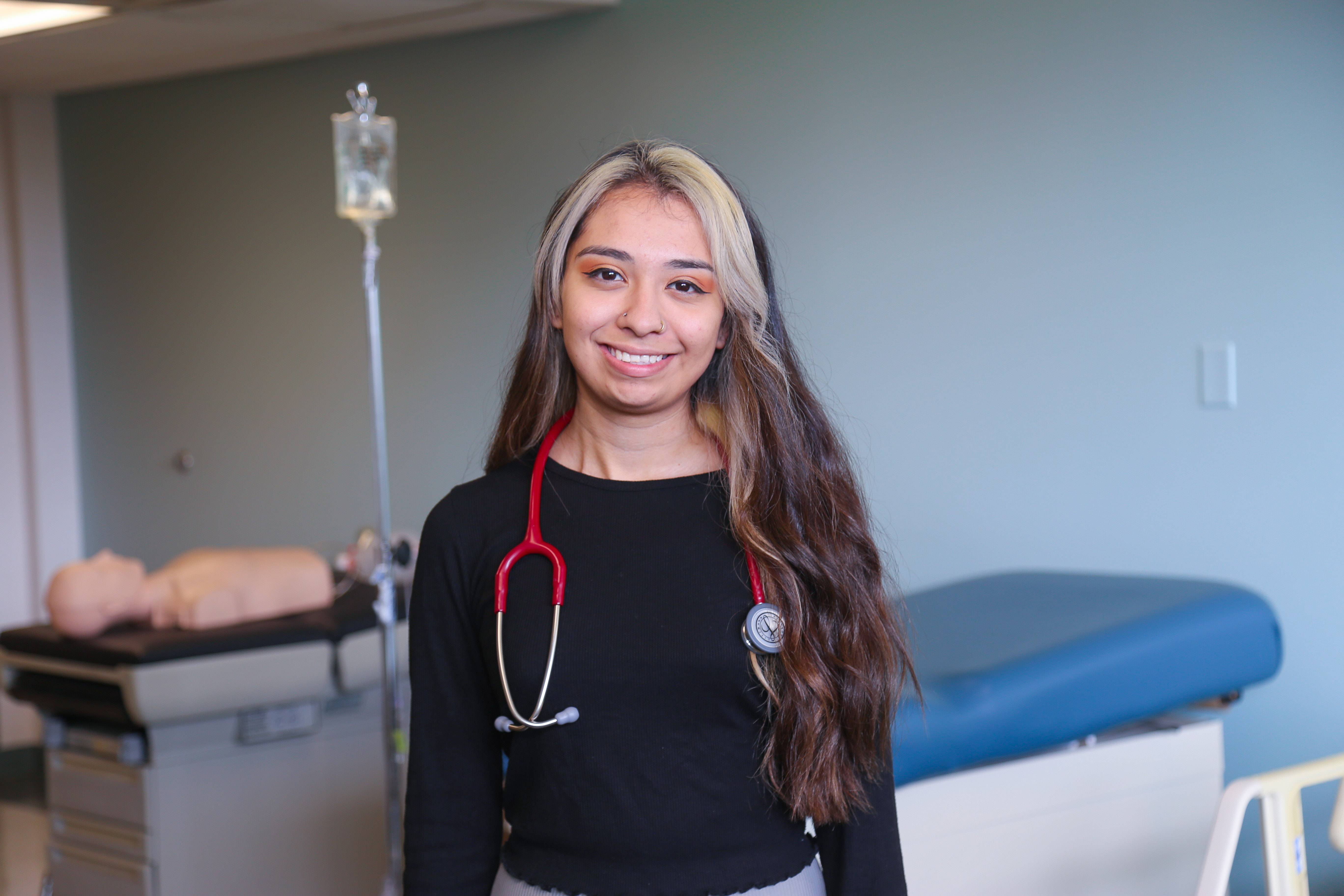 Sandra Cortez '22
Meet Sandra Cortez '22, a nursing and public health major from Elkhart, Indiana.

"It's not always very easy finding help or resources for college. We are trying to live the dream too but we have to work harder for it. This encourages me to keep pushing through it even when it gets hard. I want to inspire other students like me to not give up and follow their dreams."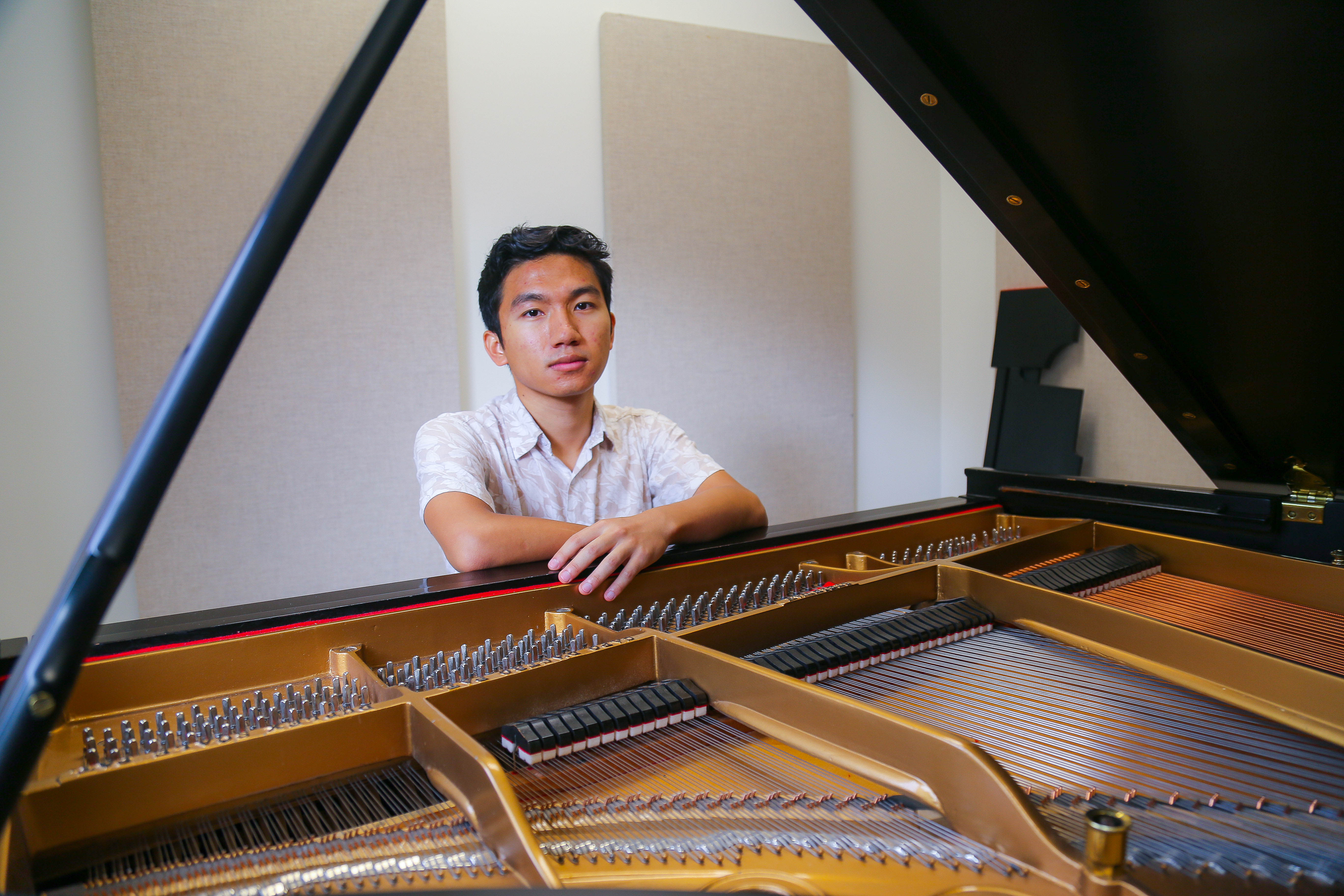 Petenei Tacü '22
Meet Petenei Tacü '22, a music major from Phesama, India.

"My parents taught me to give back to the community, and taking Music for Social Change made my focus clearer. This course made sense to me, and I connected with it personally. Part of my internship was spent in the GC Leaf Alive Camp for local school children this summer. I saw how normally quiet kids responded when they heard music that represented their cultural heritage.

"After my studies, I want to return to India. We need a purpose in life, and my purpose is to help children learn and experience music, while preserving our culture, and inspiring social change."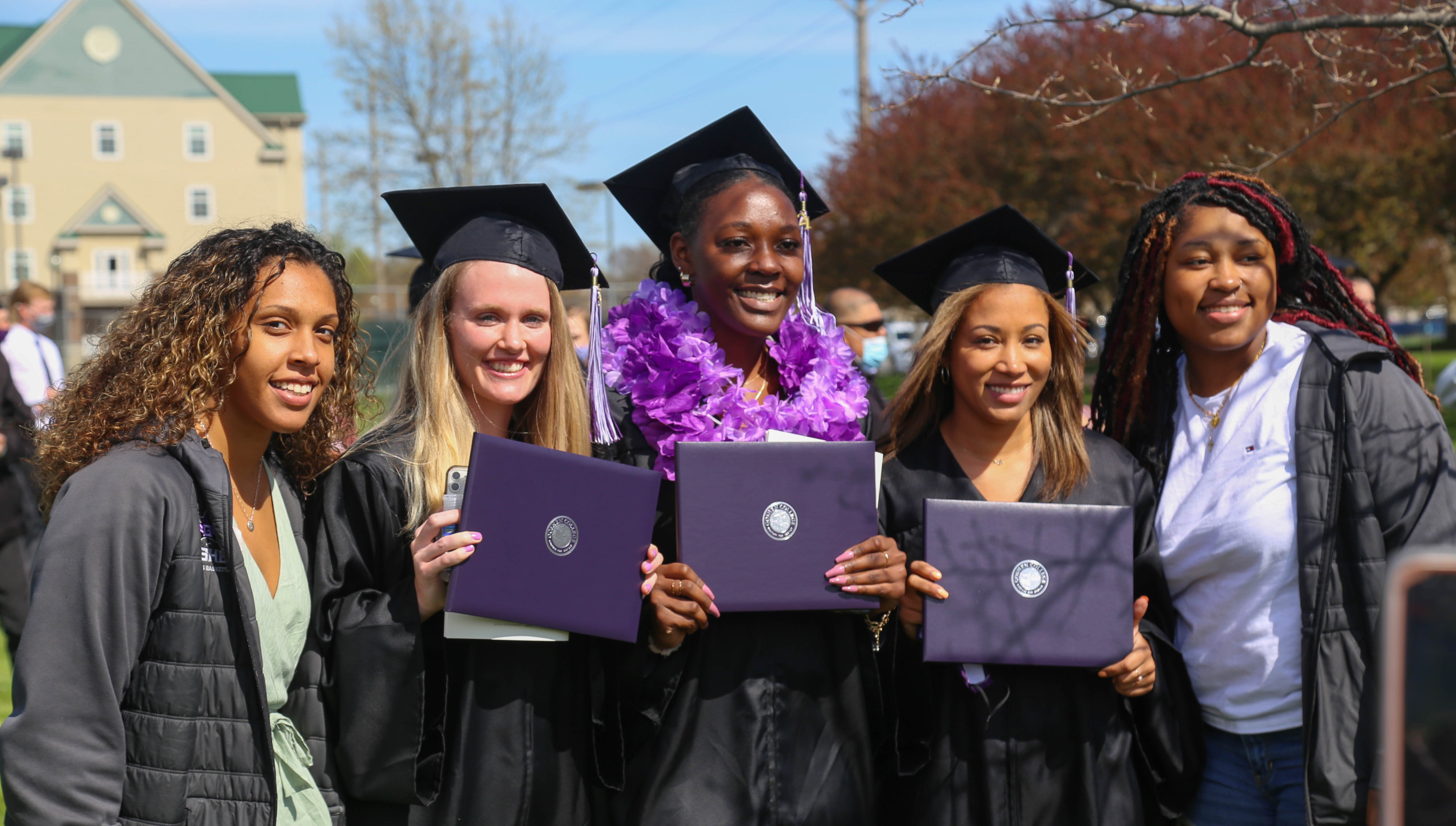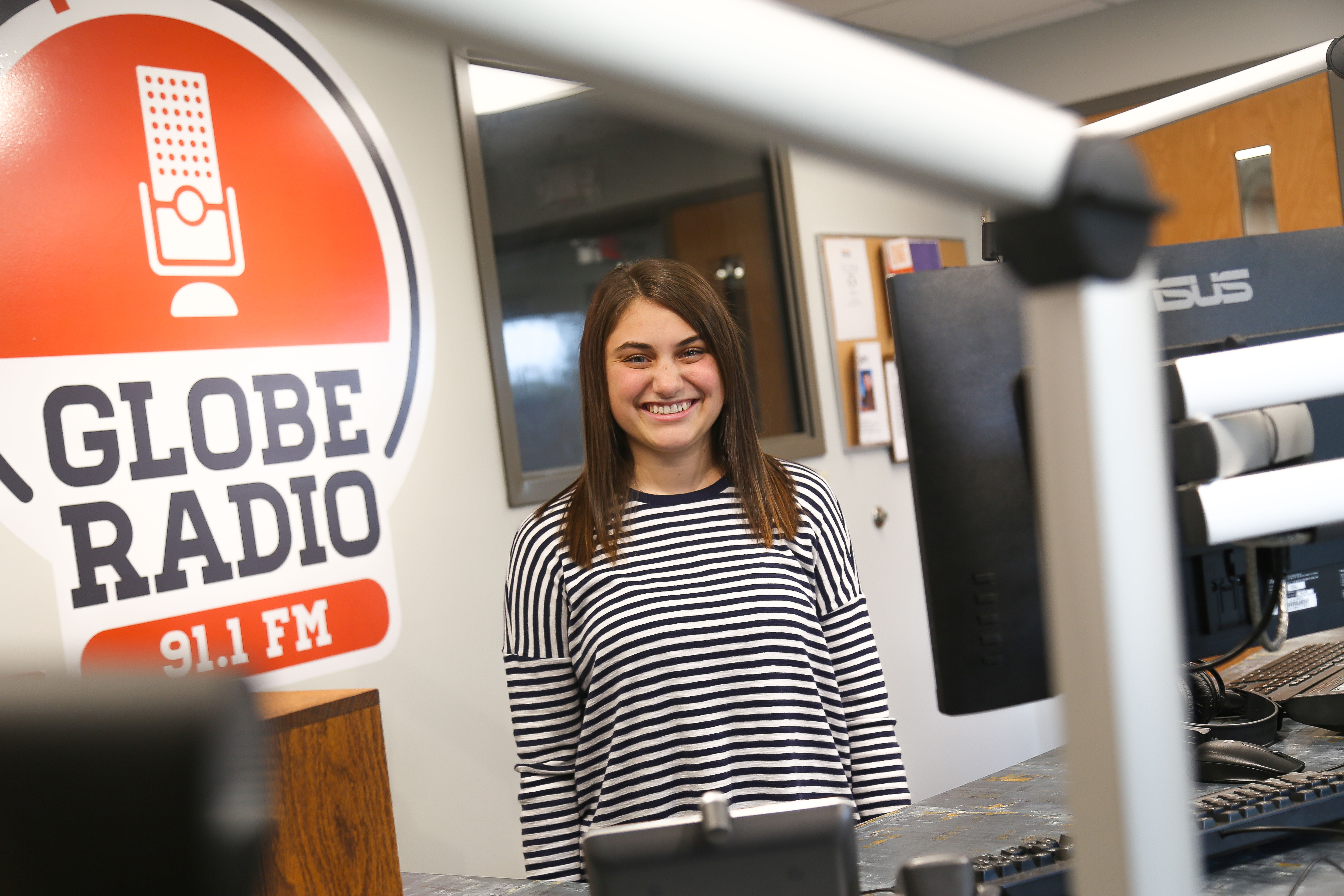 Gabriella Klopfenstein '22
Meet Gabriella Klopfenstein '22, a public relations major from Goshen.

"The Center for Communication Studies has become my second home. I've had the opportunity to hold many leadership positions, but most recently as president of Public Relations Student Society of America (PRSSA) and the student station manager of 91.1 The Globe, our student-run radio station on campus. In these various leadership roles, I have experienced more than just on-campus opportunities. For my internships, through connections from PRSSA, I worked with organizations from Goshen and Elkhart. These opportunities not only shaped my skills and helped me find my true passion, but also gave me mentors and friends. My time in the communication department has fostered my love of learning, new relationships, and prepared me for my future."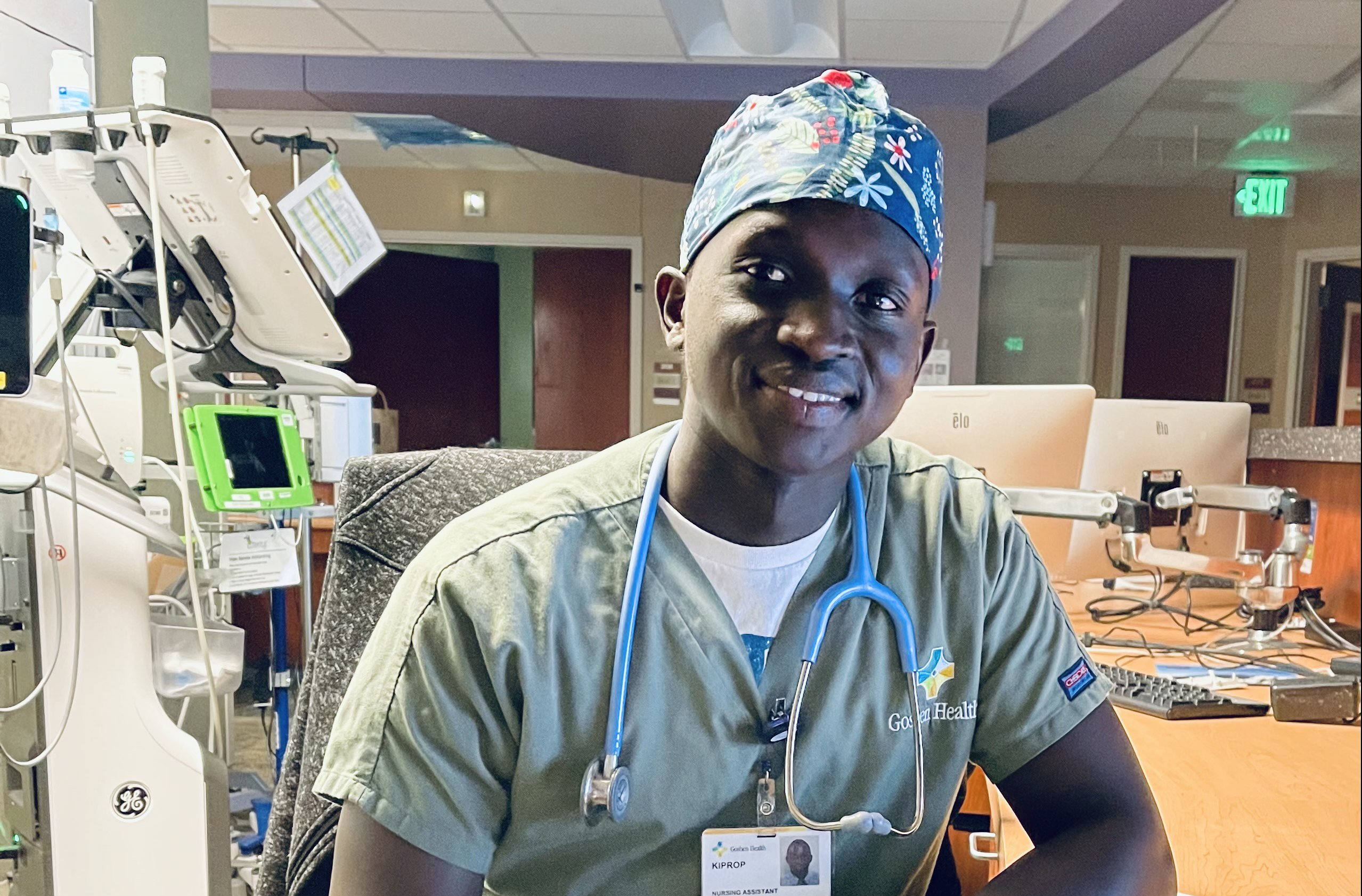 Kiprop Kiprotich '22
Meet Kiprop Kiprotich '22, a nursing major from Eldoret, Kenya.

"Caring and learning through the pandemic was a battle we fought hard. Out of everything I've done or will ever do, nothing can compare to the joy and fulfillment of seeing my patients going home, especially from the ICU after spending weeks on the ventilator and being intubated. These were people from my community. I was always ecstatic releasing them to their families. The college and local community has given me so much that I felt I could return the favor by serving it and caring for its people."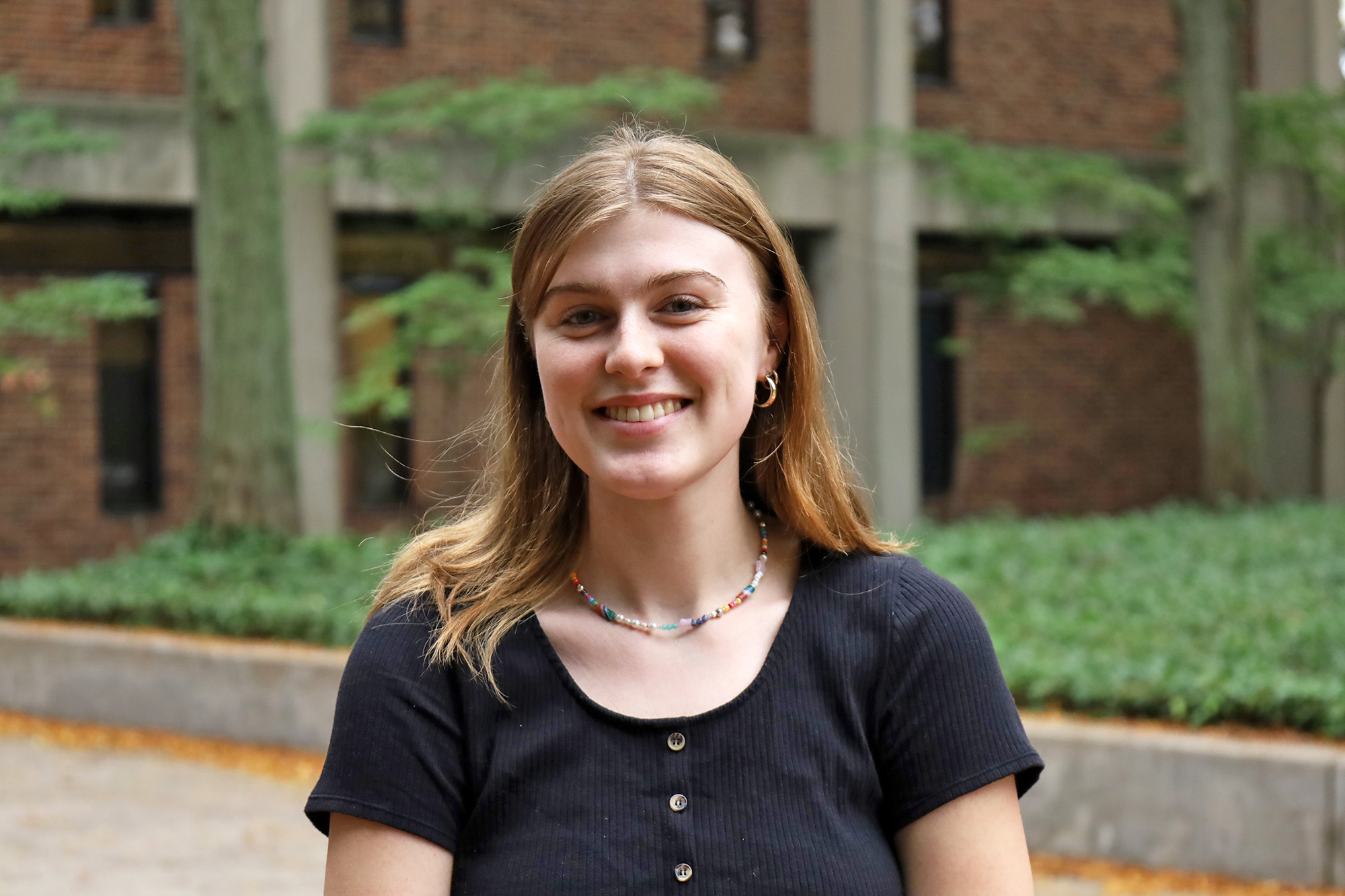 Olivia Koop '23
Meet Olivia Koop '23, a Molecular Biology/Biochemistry major from Kitchener, Ontario

"With my majors, I would normally be a Pre-Med student. But being at GC means that I can explore other classes, and I am not locked in to Pre-Med. I can even take courses outside of my major, like a water-color class!"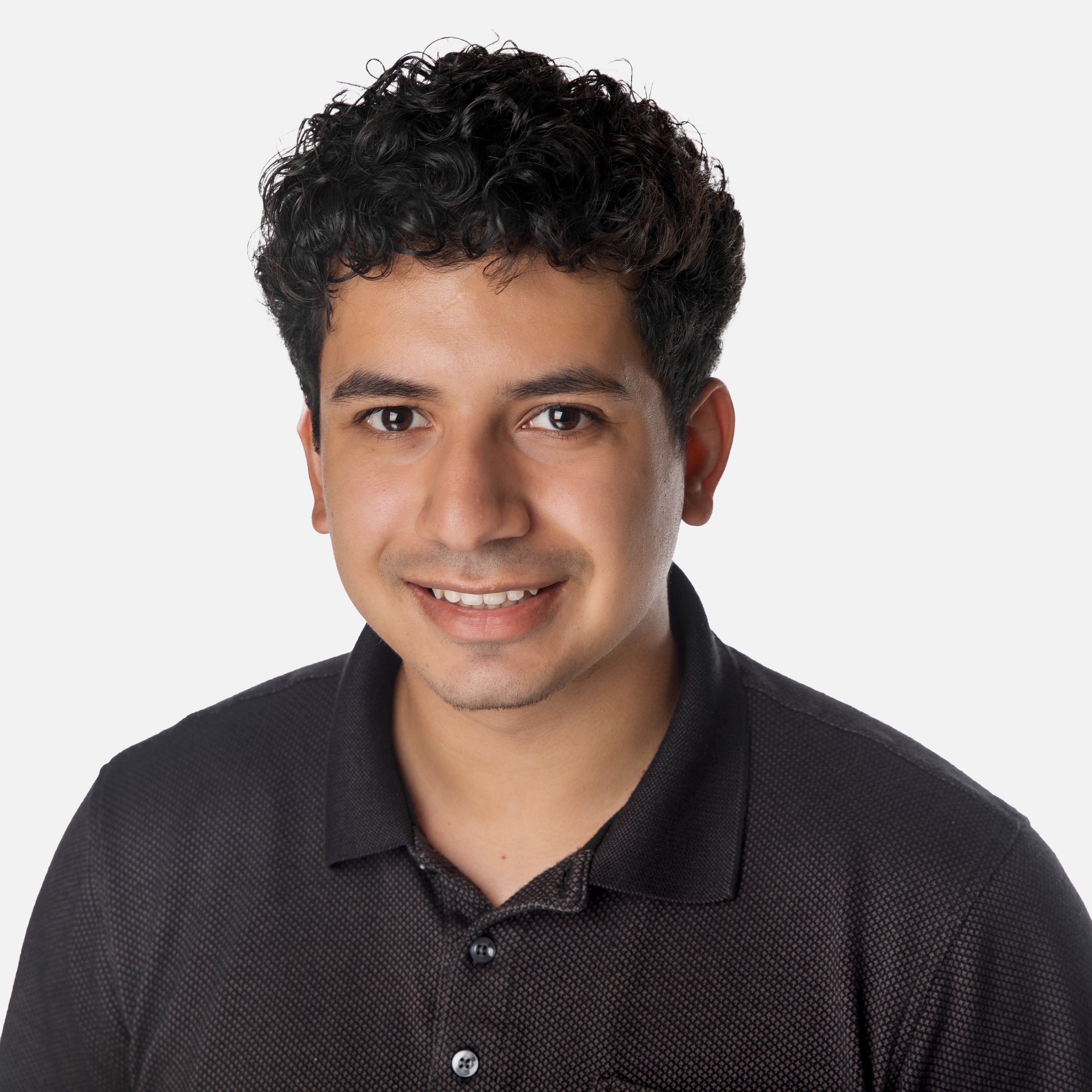 Christian Saleh '22
Meet Christian Saleh '22, an accounting major from Elkhart, Indiana.

"The profs at GC actually teach! Professors connect with the students, know our names, and continuously stay in touch with us throughout our college and career paths. They really want us to succeed beyond the classroom. My knowledge of sustainability was poor before coming to GC, and then was significantly strengthened! I'm doing sustainability management because it bridges what I'm good at and my core values. Many people say you should leave your personal life at the door when you come to work, but I think the opposite. Your personal life and beliefs should drive your job and connect to your pursuits."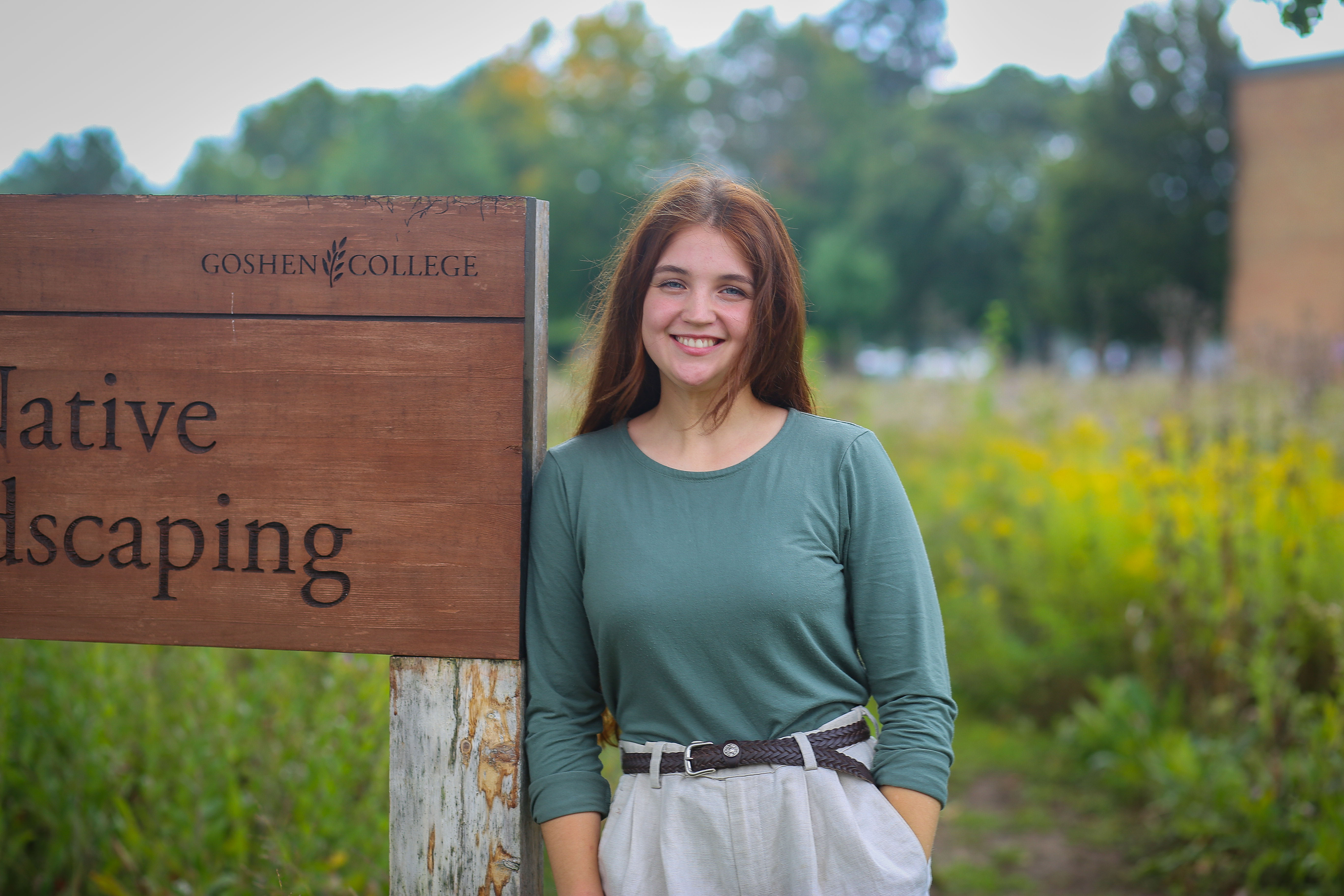 Emma Zuercher '23
Meet Emma Zuercher '23, a sign language interpreting major from Apple Creek, Ohio.

"My experience as a participant in the Sustainability Leadership Semester (SLS) at Merry Lea helped shape the lens through which I see the world. I saw how sustainability — a word I found confusing and undefined prior to my SLS experience — applies not only to environmental issues but to culture, social and environmental justice, language, art and community. Sustainability is inherently interdisciplinary and that means it's woven into every aspect of my life no matter what my career path looks like."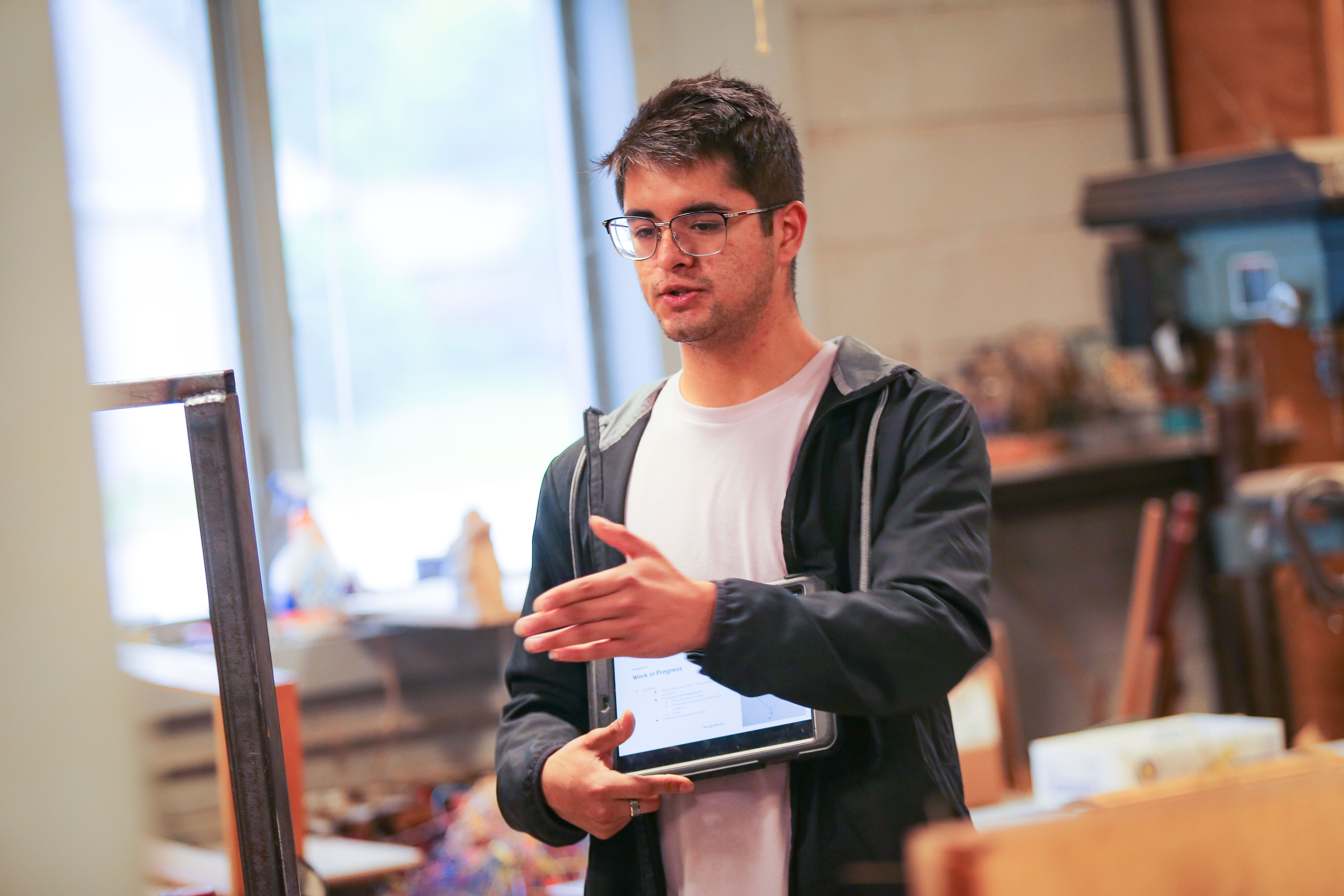 Joel Lara '22
Meet Joel Lara '22, an art major from Aguas Callientes, Mexico, and Elkhart, Indiana.

"I was recruited to go to other universities, but the scholarships at GC changed my mind. I had heard it was a very small school, but my first year was good, and the stories of the alum that have come out of GC show how good GC is. A small population does not equate with a poor academic program

"I'm a first generation student, who lived at home for the first three years. I worked 30-35 hours a week for the first three years at Greencroft and Rise-n-Roll, Miso Japan, always working in the culinary field. I love foreign food! I would like to create a DACA scholarship.

"My SST was a three-week term with Mennonite Disaster Service. I did a lot of painting since I was the art major! Seeing the effect of our work was very emotional. We saw how our work paid off. I would do it again.

"At GC, I get to learn from all people. Friendships are made easily, regardless of where you come from. The profs at GC help us network. I've had the opportunity to work with profs in Maple Scholars. They don't just give us homework, real work."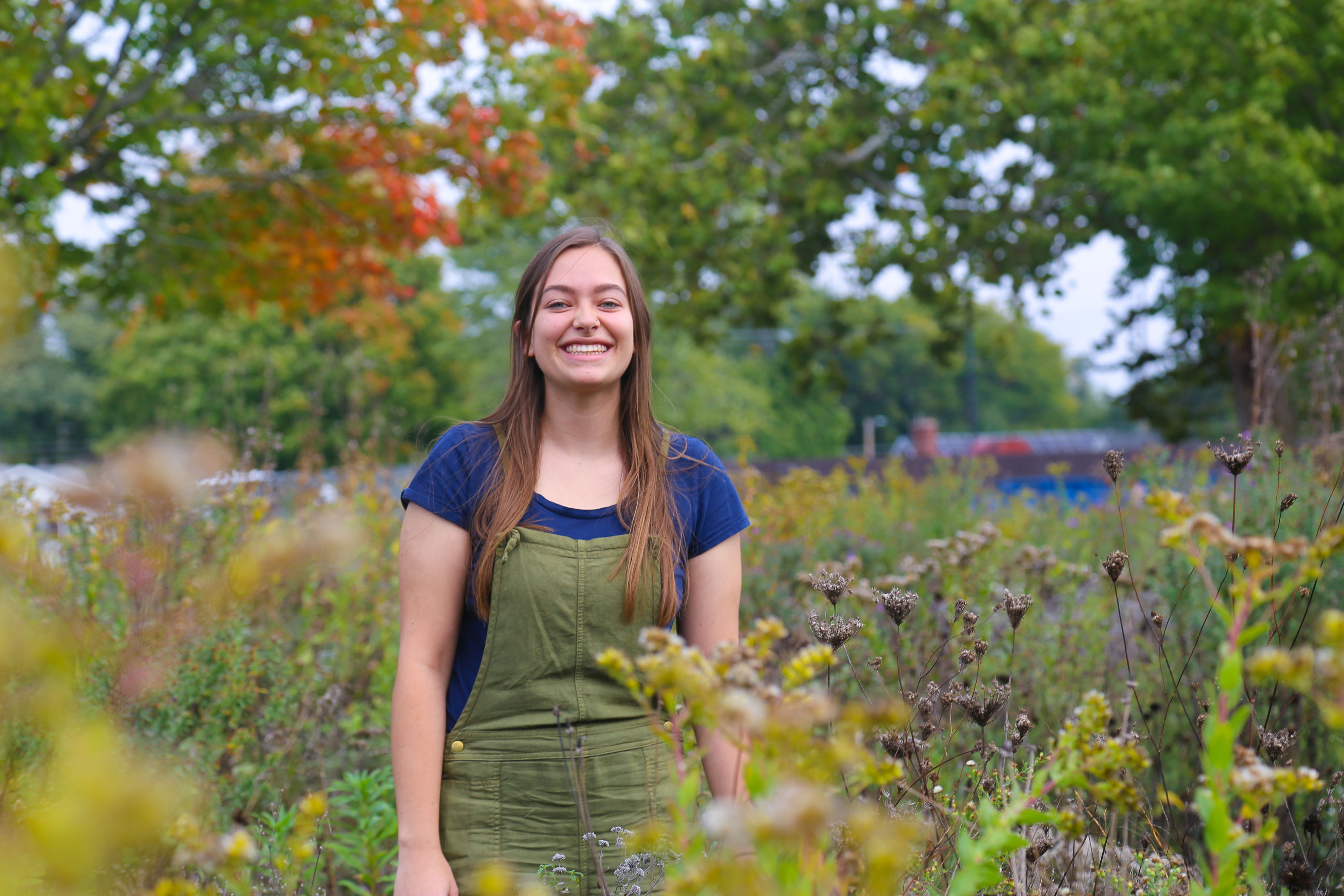 Anna Smucker '22
Meet Anna Smucker '22, a graphic design major from Goshen.

"When the Ecuador SST was canceled [due to the pandemic], I chose the Navajo and Hopi SST course because I hadn't learned a lot about Indigenous Peoples in a global context and I wanted to know more about Navajo and Hopi people. When we first stayed with host families on the Navajo Reservation, I was immediately struck by my host family's hospitality as they welcomed us into their homes as strangers. After asking questions and doing a lot of listening and learning, I remember being told a lot about the daily challenges that my host sister and mom faced over the years for being Native American, such as discrimination, hatred and prejudice. Yet, this was balanced out by stories of their incredible strength and courage to keep pushing on. I felt honored to be in a household with three generations of women who showed us nothing but patience, strength and kindness."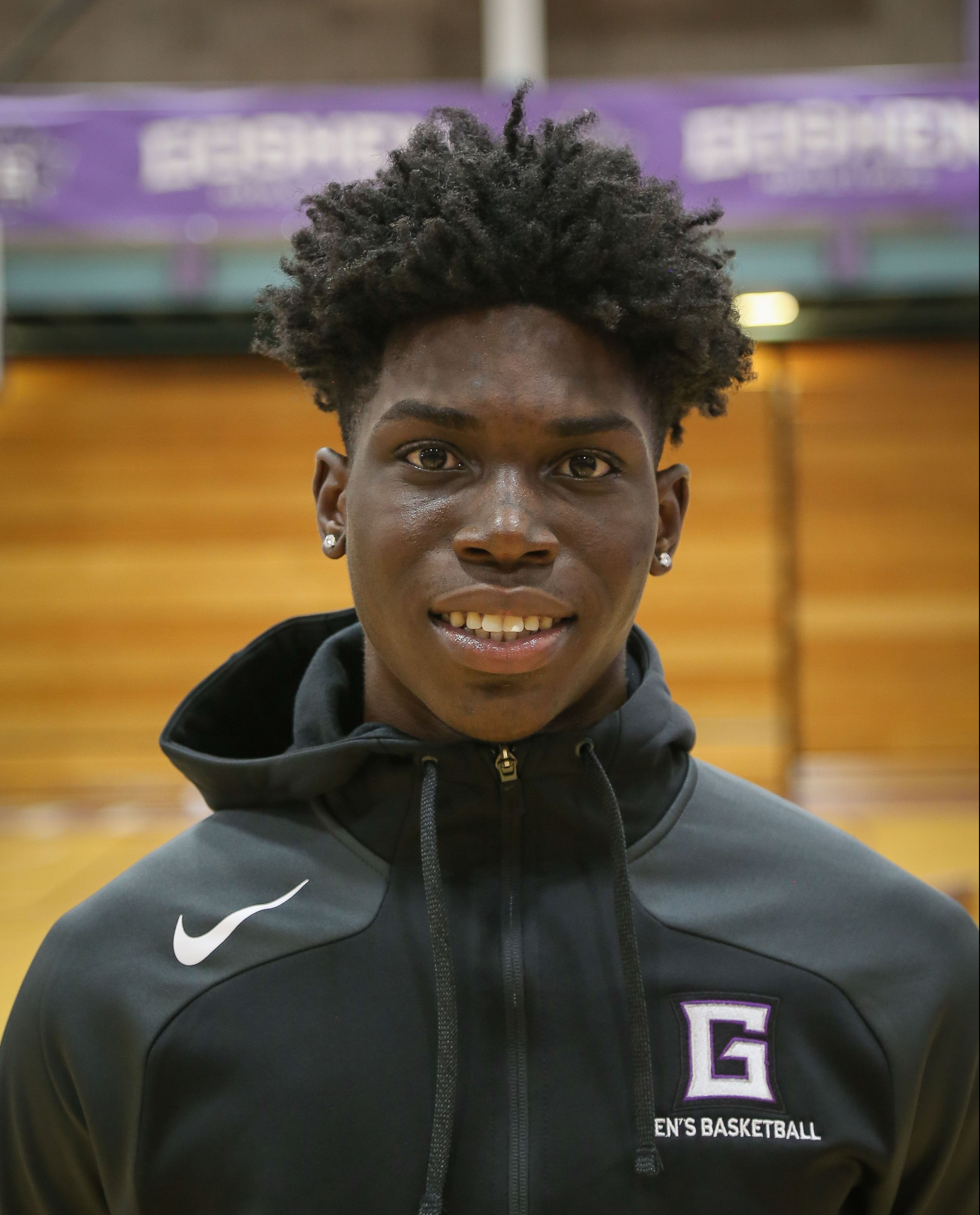 Kedrick Bibby '23
Meet Kedrick Bibby '23, an exercise science major from Kissimmee, Florida.

"I have had a lot of hands-on valuable experience towards my field of study and I find it very beneficial when I will eventually be put to the test. I believe Goshen's curriculum has prepared me pretty well for that. On the athletic side I have had teammates who made it to the pros after college, and to be able to play with them and see that these goals are achievable I'd like to see what's in store next for me."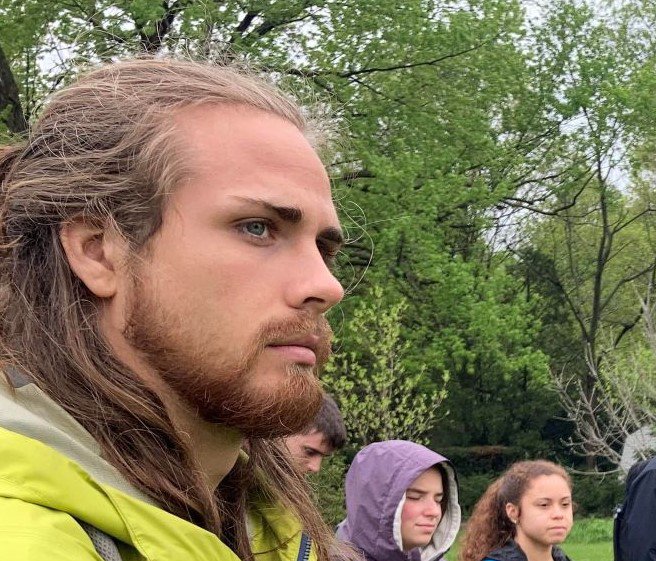 Ben Zimmerman '22
Meet Ben Zimmerman '22, a sustainability management major from Archbold, Ohio.

"I love the small campus. I know my profs and they know me. At GC we can interact with everyone. We get to live at Merry Lea, and I really need more time to do it all, like Marine Biology! Other schools don't have the depth of sustainability programs, or cross cultural experiences, and programs that are not campus bound. My values and beliefs align with GC."