Tax Benefits for Indiana Residents
The state of Indiana believes in its colleges, and it says so in dollars and cents. Indiana residents can receive a state tax credit for their financial support of Goshen College.
The credit totals for half the amount of contributions up to:
$400 on a joint return
$200 on an individual return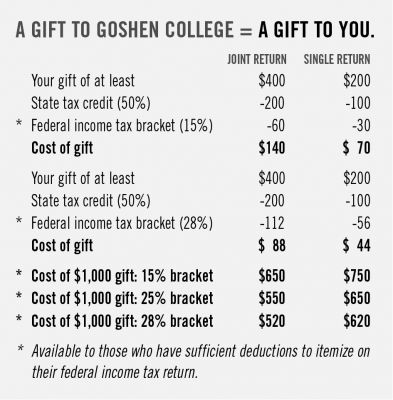 An Indiana College Credit form (Schedule CC-40) must be filed with the contributor's income tax return.
In addition to this, you receive a federal charitable income tax deduction if you itemize.
Indiana also offers state tax credit for corporations: 50 percent tax credit for gifts up to $2,000. The credit cannot exceed 10 percent of the corporation's Indiana adjusted gross income tax liability.