Meet Olivia Krall '23, a history major and political science minor from Carmel, Indiana.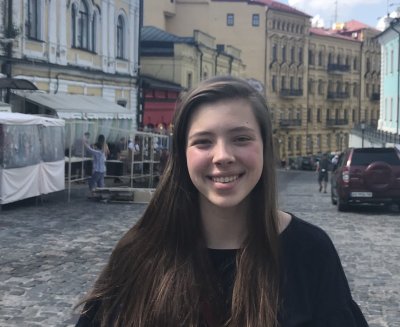 Olivia laughs when she talks about why she chose Goshen College. . .
"Well, let's just say I have family connections to Goshen College. My parents met here, my sister came here, in fact I'm a 5th generation student! At first I was determined to NOT come to GC, but my high school was huge, with a very competitive atmosphere, so I was looking for something small. At GC, we have small classes, we discuss and we learn from each other, not against each other. I like how we help each other. The relationships we build here are so important. I live with 11 other students, and we come together once a week for tea. We take time to share about our week and make deep connections.
I have to say that I wouldn't be here without the scholarships that have been donated. I have had so many opportunities at Goshen College. Because of the interdisciplinary courses at Goshen, I can even take Sculpture classes, and two of my pieces will be placed in Elkhart County in May. I certainly didn't see that coming! Most recently, I spent the summer in DC thanks to the Austin E. Knowlton Foundation, an important partner for Goshen College. Through the Foundation and our history department I earned a scholarship to the Leadership in American Presidency program. I'm very grateful."