Gloria Bontrager-Thomas '22
Meet Gloria Bontrager-Thomas '22, a theater major and peace, justice and conflict resolution minor.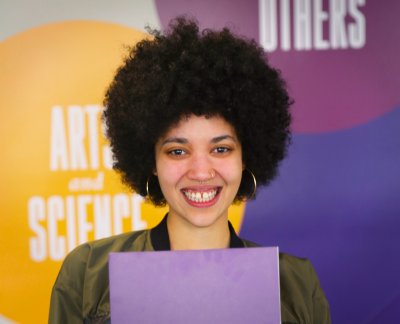 "After a 45 minute phone call with Dave Kendall, I applied to Goshen College and didn't look back! I could feel the atmosphere of the college through that one conversation. Oh my word! I have absolutely loved getting to know Regina Shands Stoltzfus. She is incredible. I have taken most of her classes, because if she's teaching it, it's going to be good. I found support and connection through my Theater profs, Amy Budd, Anna Kurtz Kuk, and Phil Stoesz.
You find connections with people at GC all the time, even over the little things. Being here has given me a safe place to explore what kind of artist I am. My senior project is a combination of my two majors. I've spent 2 years putting together stories from my Black friends and family members about experiences with systemic racism- combining two things that I'm interested in: social justice and theater.
I would like to say a big thank you to our donors! Scholarships make a difference! Please don't stop supporting GC! There are people who need the opportunities that GC offers. There is something really special about the Mennonite community. At GC, we meet such good people, and engage in wonderful fellowship. That's how Goshen College makes its mark!"