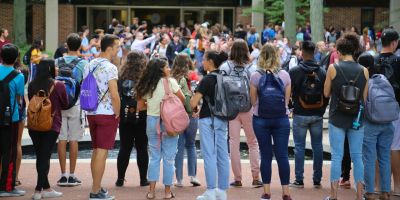 Welcome to Goshen College!
We are excited to help you successfully begin your GC career and get you more connected with your future campus through your first day of class. Spring Orientation is designed for all new Goshen College students starting classes in January and consists of two required parts: the pre-orientation modules and New Student Orientation (NSO).
All new students must complete the pre-orientation modules in the Online Orientation course by December 1. 

Pre-NSO: Required Forms – Student Life Residence Form, Financial Responsibility Agreement, Confidential Health Form, iPad Agreement Form, Emergency Contact Form, and information about accepting your Financial Aid and submitting your final transcripts.
Pre-NSO: Register for Classes – Sign up for your advising and registration appointment, and information on ALEKS (the math placement test), setting up Parent Access, and buying your books.

The modules will cover everything you need to know to be successful in preparing to start at Goshen College, from paying for college to available academic services to registering your vehicle on campus.
2. New Student Orientation
All new first-year and transfer students must participate in New Student Orientation January 8-9, 2024.
Download Yapp, the app used for New Student Orientation.