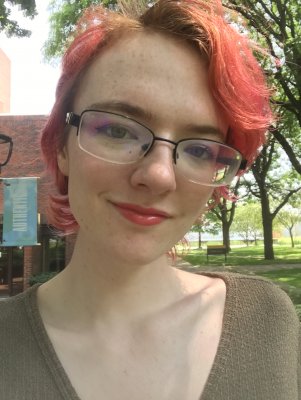 Huntington, Indiana
Majors: Social Work, Psychology
---
Why did you choose Goshen?
I chose Goshen College because of its small class sizes and the focus on community, as well as the opportunity to obtain a social work degree upon graduation that fulfills part of the master's requirements for social work. This is a unique program that I hadn't seen at any other school.
Why did you choose your major?
I'm actually a double social work and psychology major, I chose these both because I want to go into therapy and feel that social work and psychology together give me the best rounded education to work as a mental health professional.
What career are you interested in pursuing?
I intend to go into some kind of therapy or counseling with a focus on serious mental health issues.
What is a valuable experience you've had at Goshen?
My most valuable experience at Goshen College this far has been the class discussions in my social work classes. Smaller class sizes make it easier for more students to participate in class discussion, and I really enjoy hearing the experiences and thoughts of my classmates, as they help me understand issues from different perspectives that I might not personally have considered on my own.