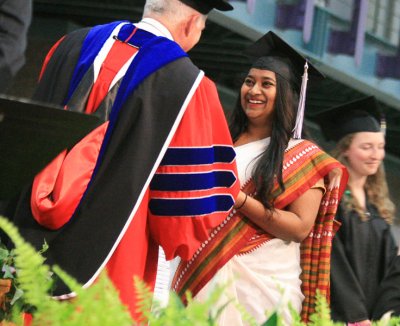 Prashansa graduated in 2016 with a degree in psychology. Originally from Allahbad, India, she was given a full scholarship to Maastricht University in the Netherlands to pursue a master's degree in forensic psychology.
Home manifests itself when both the person and the place, work hard together…to facilitate learning through a variety of experiences. To me, Goshen College has been this kind of home…Goshen did its part to help me learn about myself and grow into a person that I am quite pleased to be. I found a space where I felt comfortable to stretch my mind and let new experiences wash over me.
Here she looks back at some of the things she appreciated most about Goshen. 
Deciduous trees.  I am not used to seeing trees in four seasons. It is so incredible to see a tree go from dark green to bright orange and then turn into a skeleton before budding flowers from its bones and turning light green to start the cycle again. These trees are such a clear visual representation of the passage of time, and that has been incredibly healing for me. I found myself relying on their changing colors to help me change, grow, and heal.
Women's World Choir. Being in this choir changed me more than anything else in these five years. Never before had I been in an environment where women were given room to wail from their ovaries in solidarity with other women. I didn't know how to exist in female friendships because all I had known was women pitted against each other, and competition valued over companionship. Camaraderie with other women has been a powerful force for me.
Education. GC has somehow cultivated a culture of knowledge over competition; this has been so valuable to my learning. I feel privileged to have been guided by my highly qualified Ph.D professors, in an intentional and personal way. Working with my peers, rather than against them, has taught me how to participate in collaborative, intelligent initiatives that actually work together to facilitate change. I know that I will be able to channel that in all my future endeavors.
Professionalism. I had the luxury of getting a job my freshman year at ITS (Instructional Technology Service) Media. This allowed me to start being financially independent from my parents and taught me how to be a reliable professional. Aside from this, my supervisors had such a personal interest in my well being that truly kept me sane. Because of this job, I now have a value for clear communication and excellence. This has already improved my character as a person immensely and I find myself turning into someone I would want to work with.
Community. People in Goshen have shown me a kindness that is beyond comprehension. The people of College Mennonite Church are the reason I was able to stay motivated, financed, and happy for five years. They have taught me kindness and the power it brings. I hope that I can change someone's life the way they changed mine. I have had the luxury of freelancing within the town of Goshen and everyone is so kind and loving. I cannot believe how readily this community has accepted me. I am going to miss smiling at strangers and being a regular at the Brew (local coffee shop). I am going to miss everything and everyone.
In this place I have made several mistakes and memories, but all within the careful security provided by the Goshen community. In this place, I have been nurtured, as though by a watchful parent who has allowed me to explore, get lost, and then guided me back to a path that has some light…As a way of saying goodbye to this five year home of mine, I have decided to celebrate some of the things I've encountered here. There is some special magic here. I hope those of you who have the privilege of living here, make the most of it while you can I know that this spot in Indiana where the leafy maple grows, will forever live in my heart.