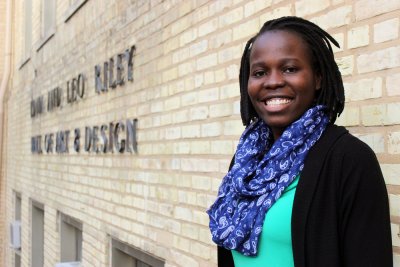 2018 Champion of Character Award Winner
By Carter McKay-Epp '19
When Penina (Acayo) Laker '11, an athlete and artist from Kampala, Uganda, arrived at Goshen College, she could not have imagined the path that she was about to set foot on. Laker began her time at GC thinking that she would major in pre-architecture, but that soon changed.
"Long story short, I took a class in digital design and it sort of blew my mind," Laker said.
At Goshen College, Laker was introduced to a slew of artistic opportunities and learned the ropes of visual design programs. These classes sparked such a great desire to learn more that Laker decided to switch her major to graphic design.
On campus, Laker was known as one of the best athletes, setting records and receiving awards in volleyball and track and field. In 2009, she was the first Maple Leaf volleyball player to be named Mid-Central College Conference Player of the Year, the first Goshen NAIA First Team All American in volleyball and was ranked eighth in the country with 4.3 kills a game.
As a member of the track and field team, Laker won three conference championships (high jump, 2008; triple jump 2009 and 2010), held the GC record in the indoor and outdoor triple jump, and in 2010 was the national runner-up and an NAIA All-American at both the indoor and outdoor national championships in the triple jump.
Off the court and the track, Laker was also known for her quick smile and positive attitude, her willingness to give back and help others – whether by holding volleyball clinics for kids, speaking to youth or raising money – and for her passion for graphic design that makes a difference.
After graduating from GC, Anne Berry '99, former assistant professor of graphic design, encouraged Laker to apply to grad school. In 2013, Laker graduated with a master's degree in visual communication design from Kent State University, the same school from which Berry had gotten her graduate degree.
Laker's path would then lead her back to Notre Dame and back to Berry, who was then working at Notre Dame as a research associate for visual communication design.
"Sometimes people ask me, 'where do you hope to be in five years,' and I jokingly tell them, 'wherever Anne Berry is,'" Laker said.
The research associate position given to Laker at Notre Dame was a new one — one that gave Laker the opportunity both engage in her own research projects while also giving her the chance to teach courses such as 2D Foundations, Design for Social Good and Packaging Design.
Laker regularly returns to Uganda, where she facilitates the DesignEd Uganda workshops to equip young people with skills in design and creative problem-solving to address social challenges in their communities. The program is an outgrowth of her MFA thesis.
Laker is currently a researcher and assistant professor of communication design at Washington University in St. Louis.
Whether in Uganda or the United States, Laker enjoys broadening student's ideas for what can be accomplished when design is viewed as a catalyst to inspire social change. Specifically, Laker wants her students to understand the importance of human-centered design - designing responsibly with input from individuals who will be impacted by the design.
"You have to make sure that you really understand the audience and their context, so you design tools that are relevant for specific communities," she said.
Over the course of her career, Laker has used design to reinforce the importance of relationships, culturally-appropriate design and contextual knowledge.
For instance, in one of her projects, Laker recognized that people in Kibera, Kenya had lower rates of traditional literacy but higher rates of visual literacy. She worked on a team that developed a series of colorful symbols and icons that showed both the signs and symptoms of malaria and how to communicate issues to healthcare providers.
"Healthcare information is often misrepresented and filled with false rumors about sickness and treatment," said Acayo. "Existing visuals typically fail by using culturally out-of-context narratives that are too complicated to understand."
Laker believes that effective projects are equal partnerships between an organization and a community.
As a professor, Laker has introduced a new class titled Design for Social Impact. In it she teaches students how to work with communities and contexts different from their own. Laker encourages students to think of the people behind the projects they engage in, regardless of whether those projects are thousands of miles away or locally in St. Louis.
Laker lives in St. Louis with her husband, Kyle, and their young daughter, Christina. They attend Grace and Peace Fellowship.