Patricia Ebersole-Zwier '76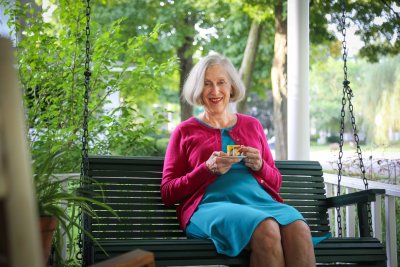 2018 Culture for Service Award Winner
Written by Carter McKay-Epp '19
Growing up in Archbold, Ohio, Latin America was hardly on the radar for Patricia Ebersole-Zwier '76. That remained true until Ebersole-Zwier attended Goshen College, where she spent her Study-Service Term (SST) in Honduras. While there, her service community asked her to return to work after graduation. However, Ebersole-Zwier declined and instead started work at Walnut Hill Daycare in Goshen.
After three years, Ebersole-Zwier fell into a harsh sickness. "I knew that I was that sick because I was really fighting something that I needed to do," she said. "I said 'Okay, I'll go to Honduras,' and then I started to get better."
Once there, Ebersole-Zwier worked at a Mennonite church in the capital, San Pedro Sula, doing leadership formation with young adults. Throughout this time, Ebersole-Zwier often questioned whether she was qualified to mentor her own peers. "Who was I to be doing this?" she said.
Nonetheless, Ebersole-Zwier learned to thrive in her role and began doing for her peers the sort of mentoring that her faith and educational communities had done for her. "And I made a lot of friends," Ebersole-Zwier said. While there, she also met her husband, Joel Zwier, who had been working with the Christian Reformed Church doing development work. Together they started a family in San Pedro Sula.
Soon after the birth of their first child, the couple moved to Santo Domingo in the Dominican Republic, where Ebersole-Zwier began her work hosting a play school for the children of friends in her area. On Sunday nights, she and her husband would make their way out of the city on dark country backroads to sugar cane bateyes to worship in tiny local churches.
However, the couple didn't feel like they were truly a part of those communities. "We started going to a Mennonite church in the capital, and that was a really good space. It felt like we were received into the community as persons and not as North Americans," she said.
The couple found themselves teaching and doing marriage counseling for other young couples at Iglesia Mennonite Luz y Vida. Again, these couples were similar in age to Ebersole-Zwier, but by now she had a formula: Take what you are, and what you've learned, and pass it on. Build relationships and let them be mutual.
"We learned so much from them too," Ebersole-Zwier said of the couples she and her husband counseled.
In 1992, Ebersole-Zwier and her husband decided to take a study leave in the United States to attend graduate school at the University of Wisconsin-Madison.
After a year of late nights and many grekas of espresso, Ebersole-Zwier was an internship away from a graduate degree in counseling. Upon returning to Santo Domingo, Ebersole-Zwier found an internship as a family counselor at a practice run by a British/Peruvian expat.
There was only one catch: For her to be given the position, Ebersole-Zwier would have to earn a master's degree in Santo Domingo. Never one to back down from a challenge, Ebersole-Zwier began taking one class at a time along side of experienced Dominican therapists, doctors and pastors, and in six years graduated with a second master's degree in family therapy from La Universidad Autónoma de Santo Domingo.
She joined a family therapy center run completely by Dominican women and enjoyed working there for 11 years before leaving Santo Domingo. "They were all high-quality profesionales and women of faith, and I made great friends," said Ebersole-Zwier.
Thirty years and four adult children later, Ebersole-Zwier and her husband have found their way back to Goshen. As a bilingual therapist, Ebersole-Zwier enjoys her role at Oaklawn, a community mental health center.
Ebersole-Zwier sees all kinds of patients, including those without documents. She maintains that what has allowed her to be successful in the United States was what she learned in Santo Domingo: relationships and community matter. She is now involved in training and mentoring the next generation of bilingual professionals at Oaklawn.
In a way, Ebersole-Zwier has never left the Dominican Republic. Her living room is adorned with Caribbean style wooden rockers, and she still sips cafe Dominicana in little artisan cups on her patio in the mornings.
Meanwhile in Santo Domingo, couples she and her husband counseled at Iglesia Mennonite Luz y Vida are themselves preparing a retreat for couples in October. There they continue to pass on what they first learned from Ebersole-Zwier decades ago to a new generation of teachers.
Patricia Ebersole-Zwier and Joel Zwier live in Goshen and attend Assembly Mennonite Church. They are the parents of Elisa Zwier '03, Sarah Zwier '08, David Zwier '12 and James Zwier.