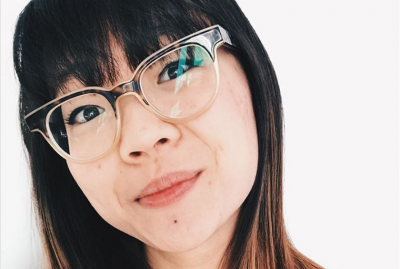 Olivia Copsey is a journalism and psychology double major and graphic design minor from Goshen Indiana. She transferred from Hesston College in Kansas in 2017. She is a photographer, a member of Women's World Music Choir and works for the college newspaper, the Record.
What do you like most about Goshen and why?
Probably the amount of involvement or opportunities that are offered. There's lots of contacts here, we have a lot of talented professors.
Why did you choose Goshen?
After I was away at Hesston for two years I wanted to come back home. I grew up here, Goshen's always been apart of my life.
What's it like being at a small college so close to home?
I felt really glad to be back, I can come home when I want and not when I don't want to. My mom is really good about giving me the space that I need to live so close to home. She's not overbearing and I feel like she lets me have a lot of independence so that hasn't been really hard for me.
What do you hope to do with your degree?
The biggest aspiration and coolest thing I can think of at the moment is to do photojournalism for a company called Reuters. If you get paid to travel around the world and then you also get to do what you're good at, then that sounds really fun. But right now, I'm actually hoping to visit London College of Communication in May for a masters in photojournalism. I really want to live in Europe for some of my life and a photographer that I like, Damir Sagolj, graduated from that school.
What is your favorite experience at GC so far?
I really like the Record and the women's choir. Doing the photos for the Record is really fun because I get to meet a bunch of people that I probably wouldn't have talked to.
How do you manage being involved in so many extracurriculars at Goshen?
I have to know my schedule really well and be really strategic about that.
What advice would you give a prospective students?
You have the ability to make choices wherever you go and that will determine your satisfaction in some areas. You have the choice to change your perspective, nobody's forcing you to stay in your room all the time, that's a choice that you make, you can go out and find other people and if you don't then you can't complain about it. That's kind of my very blunt truth.
What surprised you about Goshen College?
Goshen's ability to create growth in people that I haven't seen for a very long time, and the experience that the profs have. I was really surprised at how much background experience they have.