Mark Histand '08 and Alex Caskey '10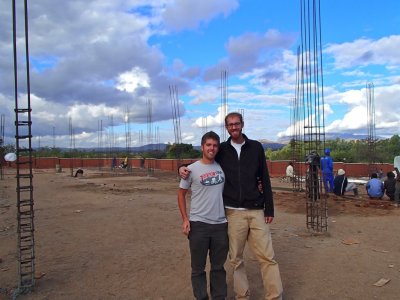 Goshen graduates Mark Histand '08 and Alex Caskey '10 oversaw the construction a peanut butter factory in Malawi with Project Peanut Butter, which aims to treat children with malnutrition and help the local economy.
During a family Christmas dinner last year, Alex Caskey received a call out of the blue from his college friend, Mark Histand. It was an invitation to go to Malawi, Africa, to oversee the construction of a peanut butter factory.
A St. Louis-based organization called Project Peanut Butter (PPB), which produces fortified peanut butter for malnourished children in Africa, needed two people with construction experience and the flexibility to spend a year abroad. Mark and Alex had both. Histand's brother, Martin, is a project manager at PPB and originally informed Mark about the position.
After speaking with Dr. Mark Manary, founder of Project Peanut Butter and a member of Histand's church in St. Louis, the two friends agreed to spend a year overseeing the construction of a factory and office. Just three weeks later they were both on a plane headed to the small southeast African country of Malawi to begin developing and building a new peanut butter production facility.
"It was a whirlwind experience," said Caskey, a Goshen native who graduated in 2010 with an art and environmental science degree.
Learning on the job
Upon their arrival, the two quickly realized the challenges of building a 4,000 square foot factory and adjacent office complex—especially in one of Africa's poorest and least-developed countries. In Malawi, construction relies heavily on human power, as many of the labor-saving machines typically used in construction are not readily available.
Histand knew how to build timber frame homes after working for Habitat for Humanity in St. Louis for three and a half years, but once in Malawi he had to learn how to build with materials like concrete and steel. Still, he and Caskey were eager to get to work.
"We sort of jumped right in," said Histand, who graduated in 2008 with an environmental science degree.
One of their first challenges was to find and manage an architect and contractor who could design and build a long-lasting concrete structure. They also faced early setbacks obtaining a building license from the local district council and waiting for materials like cement, rebar and electrical equipment to arrive.
After much planning, emailing, learning, talking with contractors and procuring supplies, Histand and Caskey's crew finally broke ground for the factory structure in late April. Excavations for the factory included 50-70 Malawian men digging trenches for the footing. In July, the crew completed the concrete sub-structure and began work on the building's superstructure.
For Caskey and Histand, one of the best parts of their job has been working with the more than 50 men on their crew. "They take pride in helping the children of their country," Caskey said. "It's rewarding to work alongside them."  He added that he likes how no two days are the same on the construction site.
Treating malnutrition with peanut butter
Both Histand and Caskey look forward to the day when the new factory will produce a special peanut butter known as a "ready-to-use therapeutic food" (RUTF) for severely malnourished children. The RUTF—a blend of peanut paste, sugar, vegetable oil, milk powder, vitamins and minerals—has been endorsed as one of the best ways to treat acute malnutrition by the World Health Organization. Clinical studies show that 95 percent of children treated with RUTF fully recover from malnutrition.
The other major benefit of producing RUTF, called chiponde by locals, is that it boosts the local economy by providing jobs for local peanut farmers and factory workers. Project Peanut Butter is unique in that it produces RUTF within the local regions where it is served and uses as many local ingredients as possible.
Once RUTF is produced and packaged, it can be stored for many months without spoiling and is eventually administered to children in rural clinics. Histand and Caskey often hear stories about the wonders of chiponde from friends who work at the clinics. Caskey said he knew a child who came to a clinic severely malnourished, who is now fully restored to health. These "miracle stories" continue to motivate them as they wrap up their construction work this winter.
"What we're doing here is so tangible," Caskey said. "Kids are being helped, this building is going up and we can actually see it."
Today, the factory's beams and columns are finished and the concrete block walls are more than 90 percent complete. A majority of the roof trusses and braces are up, and electrical and plumping installation is underway.
Histand and Caskey expect most of the factory construction to be completed by the time they return home on December 22, with chiponde production up and running as early as January. Visit projectpeanutbutter.org or their blog to learn more about their work in Malawi.
– by Ariel Ropp '13