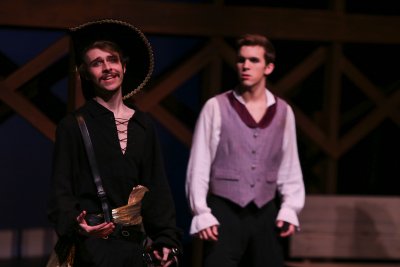 Lukas Thompson discovered a love of music and theater early on, leading him on a path toward the stage. Thompson is a senior music major at Goshen College graduated this year.
---
Lukas Thompson's first memory of music comes from a CD he bought at Target. The album was "Scottish Moors" by composer Jeff Victor and was filled with "cinematic sorta atmospheric scottish style music," according to Thompson.
Thompson is a baritone and got his start singing in middle school.
"I joined choir on a whim in sixth grade and I had fun with it," Thompson said.
He sang at Goshen Middle School and continued when he started high school.
"At that point it became part of my identity - I was kinda beginning to associate with choir," Thompson said.
During his time at Goshen High School Thompson participated in the men's choir, advanced choir and Goshen's show choir: The Crimsonaires.
"The Crimsonaires gave me a lot of confidence as a performer and taught me to be comfortable in my body," Thompson said.
He also performed in theater, acting in every musical he could. His freshman year he was a flying monkey and part of the lollipop guild in The Wizard of Oz and his sophomore year he was Mendel, the Rabbi's Son, in Fiddler on the Roof.
In both his junior and senior years, Thompson was cast as the lead in musicals named after the main character; junior year playing Willy Wonka and senior year playing Pippin.
As Pippin, Thompson acted alongside King Charlemagne who was played by his lifelong friend, Ben Meyer-Riemer.
Thompson and Meyer-Riemer first met when they were six years old when Thompson's family moved into the Meyer Reimer's neighborhood.
"My dad basically…took me over there to meet the neighbors and was like 'Hey, welcome to the neighborhood. I see you have a son that is about five years old. I also have a son around that age,'" said Meyer Reimer. "And then [my dad] left me there. So we hung out for a while and [that's] how it's been ever since."
Thompson and Meyer-Riemer attended Goshen Schools together, both participating in music.
That trend continued in college, when both Thompson and Meyer Reimer chose to continue their education at Goshen College.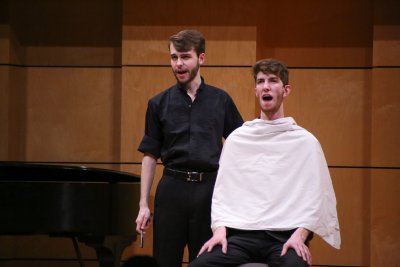 Meyer Reimer's fondest memories with Thompson are from acting in musicals and singing next to Thompson during Goshen College's Festival of Carols.
At Goshen College, both were required to complete a senior music recital as part of their majors. Meyer Reimer's recital was this past November, and sadly Thompson was not able to participate.
But when April rolled around, Lukas was able to have not just Meyer-Riemer, but two other friends sing in his recital.
Thompson, Meyer Reimer, Josh Liechty and Matthew Smucker all sang "Birds of a Feather, We Rock Together" by Vulfpeck.
Artists like Vulfpeck and Tame Impala have inspired Thompson to work on music of his own.
"For the past year or so I've been writing [music] every day," Thompson said.
He has also worked at learning programs such as Ableton Live, working toward producing music of his own.
After graduation, Thompson will live in Goshen.
Although his recital marked an end to a college music career, Thompson will continue singing, writing and producing music far into the future.