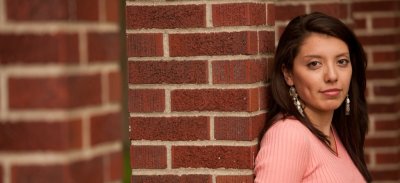 Lizzy Diaz '13 came to Goshen College to become a nurse, but changed her major to sociology to study the complexities of human societies. While a student, she was an athlete and traveled to Egypt for Study-Service Term.
I really liked the atmosphere and friendliness of people on campus. I appreciated the Christ-centered and service-leadership values of Goshen. I first thought I wanted to go to a big university, but Goshen was such a welcoming and diverse community. I wouldn't have been challenged to go outside my comfort zone the way I have been here. I had an awesome experience.
At first, I wanted to be a nurse and earn my master's degree. That changed, but I still wanted to do mission work and serve in another country. I spent a semester in Egypt for my Study-Service Term. It was so completely different from what I'd been exposed to. Seeing the interactions and friendships between Christian and Muslim students was inspiring and gives me hope for peace.
I'm hopeful that I can use the things I learned to promote peace within a person, within families and within communities. I hope to see different countries and cultures find common ground, so they can reach agreements rather than fight.