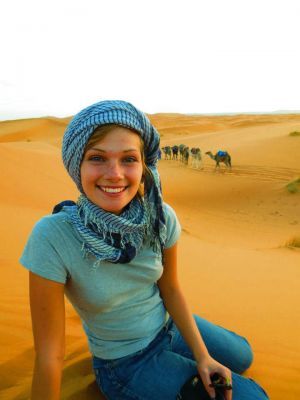 During her time at Goshen College, Liz performed in theater productions, wrote for The Record and Goshen Commons and worked as a barista at Java Junction. After graduation she spent a year in Seattle working for Grist.org, and she now works at Eyedart Creative Studio in Goshen.
What do you like most about Goshen and why?
There's a lot to love about Goshen. One of my favorite things, and something I noticed right away, is that people are actively friendly and loving. As a shy freshmen (from out of state, not Mennonite, who knew no one on campus), I thought that making friends would be much harder. But, as a happy surprise, Goshen College people are curious about those who are different from them. They—and after four years, I'll say "we"—seek out stimulating conversation, daily adventures, investigative learning and educational experiences.
I also love the way sycamore trees billow over the sidewalks, the way hymns reverberate through the Church-Chapel halls twice a week, the way that friends can be made in the time it takes to steep a mug of chai and the way campus will always feel like home.
Why did you choose to come to Goshen College?
This isn't the easiest question, because I don't really know how I ended up here. After high school, I wanted to take a year off to live abroad. When that fell through, first I went into catatonic shock, and then I decided to find a college that offered students more than a fast track to a high-paying job and an innocuous future. I was impressed and intrigued by Goshen's focus on learning through experiences, traveling, relationships and conversations.
How has Goshen College influenced your faith or worldview?
Goshen College taught me that asking questions, doubting what I've been told before and being lost from time to time are not bad things. In my classes and in my friendships, I felt free to be honest about my beliefs, my background, my questions about life and religion and freely talk about what makes me different. I didn't come from a Mennonite home, so being absorbed into the culture (and it is a culture, for those of you "non-Mennonites" who haven't been told), came as a bit of a shock. Over the years, I haven't lost my roots in my own faith tradition, but I've sown new seeds–like seeing church as a community, non-confrontational faith, peacebuilding relationships and worshiping God through the everyday moments of working, speaking and learning.
What do you hope to do with your degree?
Starting in the fall of 2014, I'm moving to Seattle to work as an editorial intern for Grist.org, an online publication that writes stories on environmental issues and topics. I have this opportunity through Mennonite Voluntary Service, an organization that gives post-graduates the chance to serve for a year or more in various locations and positions. In the future, I hope to continue writing and editing, possibly in environmental issues, but I am also interested in children's book publishing.
What advice would you give a prospective student?
If you're not Mennonite, or you don't feel like you fit in somehow, don't give up on Goshen too soon. You don't have to be like everybody else—heck, you don't have to be like anybody else. Be who you are, but be intentional about getting to know other people, their beliefs, their backgrounds, their families and their interests. Share those things about yourself with others, too.
If you have participated in Study-Service Term or studied abroad, what was an influential experience?
I went on SST to Morocco. We were the first and only group to have the chance to study and serve in that region. I am so thankful that I had the chance to go to a predominantly Muslim and Arab location because of the increased tensions between the Western and Arab worlds today. As I got to know my host mother, four host sisters and two host brothers, despite the lack of language commonality, I learned how to learn from and listen to a different faith perspective. We loved to have conversations about faith with each other, and we almost always ended our conversations with something a long the lines of, "Yes! You get it! God loves everyone!" and big hugs. After coming back from Morocco, I feel very, very passionately about improving Christian and Muslim relationships.